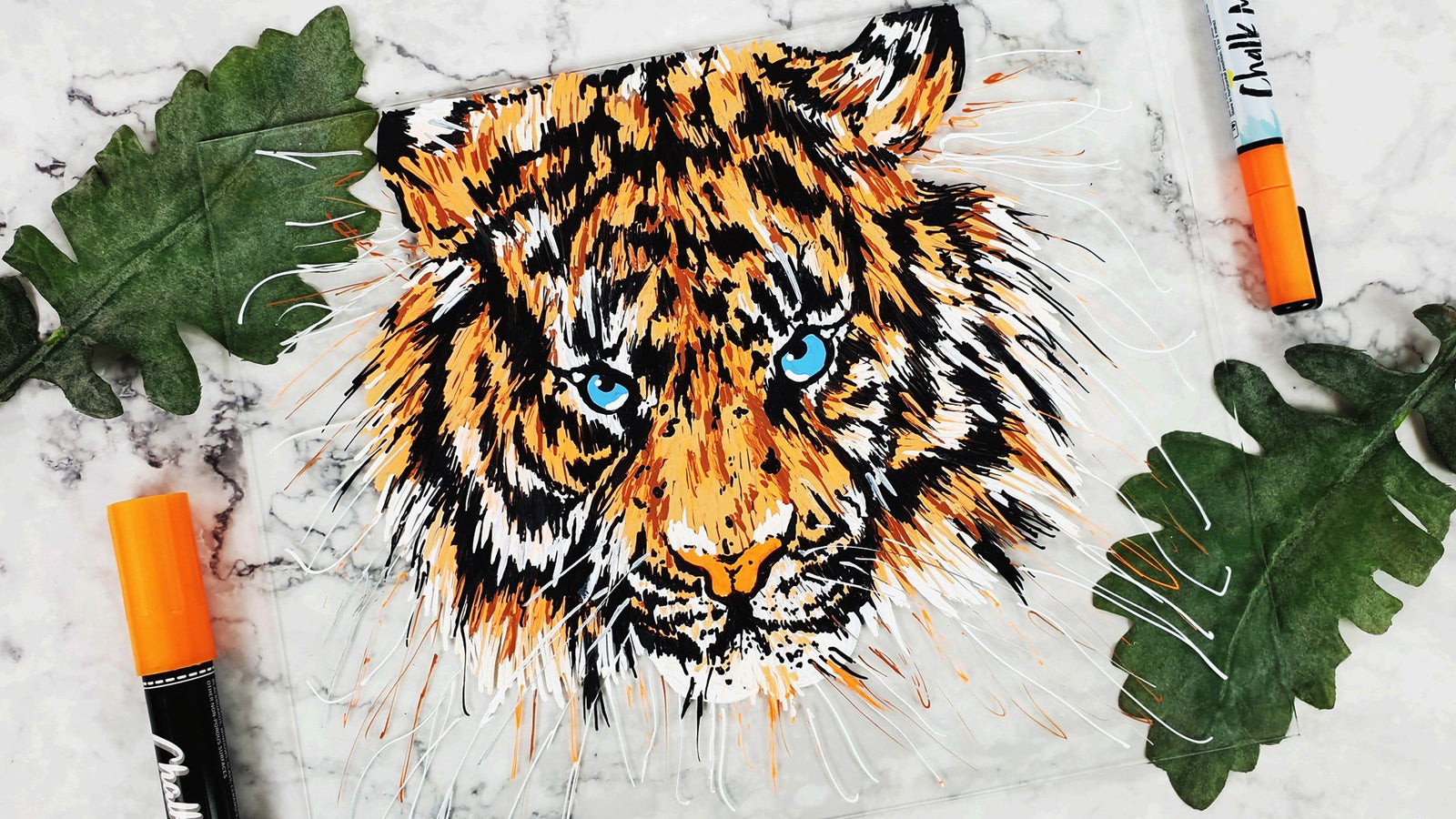 Feline artsy today?
If you have a spare picture frame or any small- to medium-sized glass surface, we have a purr-fectly unique idea on how you can put it to creative use! With your Chalkola Chalk Markers, we can capture a tiger's majestic profile through art on glass. It may sound a bit complicated, but trust us when we say it's pretty simple and easy, and something you can do by yourself or with a group. You also won't need much to get this wild art-venture on the road–just a few materials and you're good to go!

Materials needed:
Picture frame (or any glass surface)

Drawing paper

Pencil

Tape
Are you ready to create your fang-tastic masterpiece on glass? Then let's watch the one-minute video below for an easy step-by-step guide:
Steps:

Prepare your materials. Using a pencil, sketch your tiger's profile on your drawing paper–make sure your outline fits in your picture frame or glass surface.

Once you're done with your sketch, tape all four sides of your drawing paper on your glass surface.

On the opposite side of the glass, start tracing your tiger and coloring its profile. We used black, white, blue (for the eyes), and different shades of orange, yellow, and brown to add depth and shadows to our tiger's profile. You can fill in the profile using short strokes, which also make the artwork look textured and dimensional.

Done? You can then remove the drawing paper attached to the back of your glass surface. Once the colors have dried, you can decide whether to put the glass back to its frame, or perch it elsewhere to add a unique art piece to your space. If you want to put it back to its frame so it has a stand, you can use a darker background like black or olive green art paper to make your tiger's colorful profile pop!
Using chalk markers on glass is definitely a fun way to unleash your creativity! You can use them on windows, mirrors, and other glassware surfaces that you want to spruce up. The great thing about these markers is that they're completely erasable on non-porous surfaces, so you can keep using the same one over and over again!
If you're unsure how to get your chalk marker ink flowing smoothly and correctly, don't worry, we got you. This helpful guide will show you how to maximize the many, many ways you can enjoy your chalk pens. Happy creating!