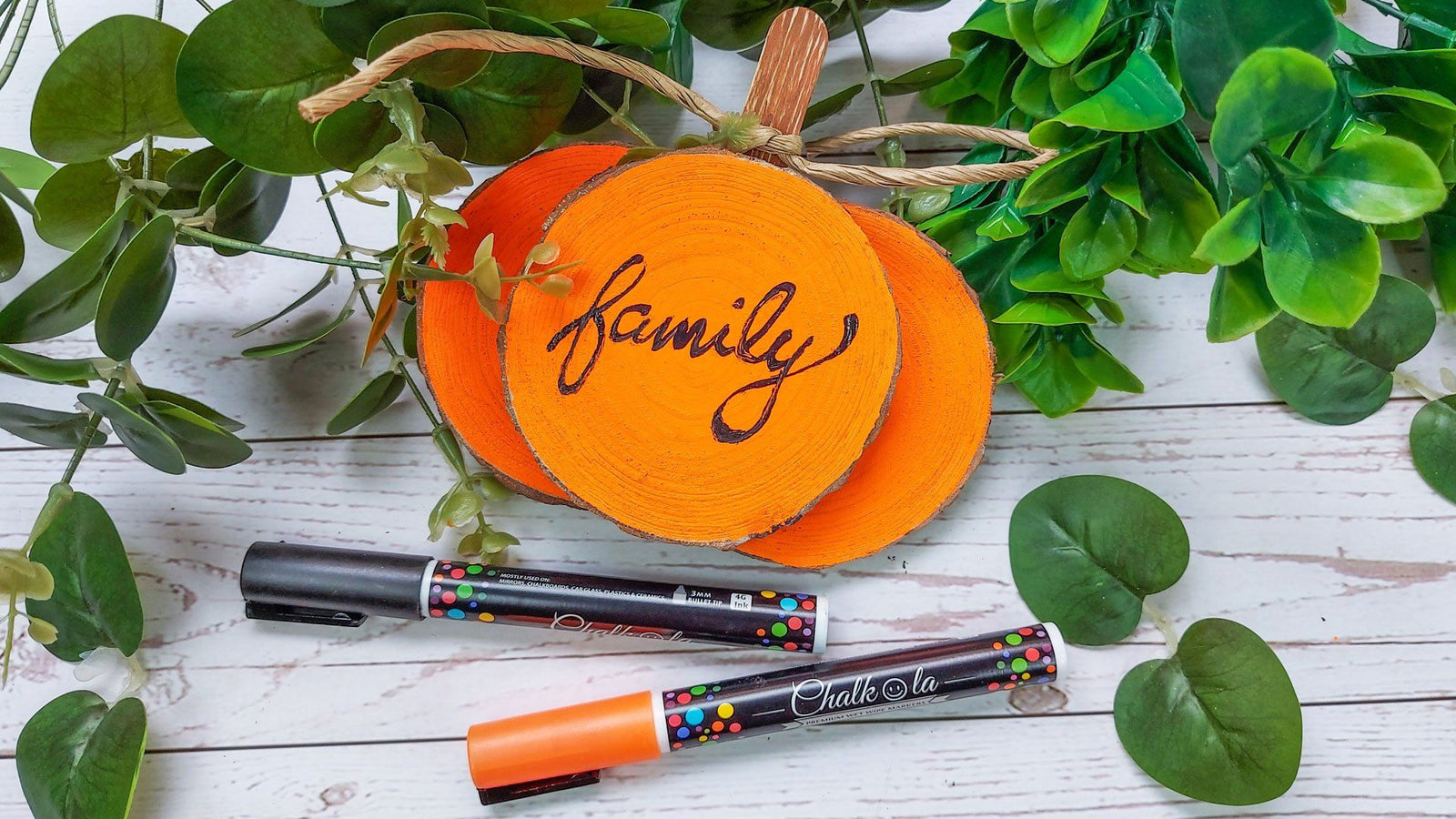 This Thanksgiving, we're thankful for you, for family, and for art and the awesome tools we can create it with.
For this art activity, let's combine all the things you love and create a fall-themed decoration that's perfect for a heart-warming Thanksgiving celebration at home. It's also something you can start as a tradition with family and friends as you enjoy customizing and designing your decorations together.
With easy-to-find materials and your trusty Chalkola chalk pens, this gourd-geous DIY rustic ornament piece will definitely make your celebration extra special, festive, and personal.
Materials needed:

Wooden coasters

Glue gun

Popsicle sticks
Ready to 'Fall' in love with the warm and rich colors of Autumn? Let's watch the tutorial video below and learn a new DIY artwork that's one for keeps!
Steps:

Prepare your materials. To start, color the whole surface of your three wooden coasters with an orange chalk pen.

Take your popsicle stick and design it with vertical lines until the middle part using your brown chalk marker. It should resemble a tree bark or branch. Once done, snap it in the middle, up to where you've designed it with your brown lines.

Using your glue gun, apply glue on the middle part where you've snapped it (jagged edges). Then stick it on the back of one of your wooden coasters.

Apply glue on the other half of your second coaster, and stick your third coaster on top of it. They should still be showing their opposite halves.

Next, apply glue on the inner half part of your third coaster, and then stick your first coaster with the popsicle stick attached to it, on top of the third coaster. 

By now, the coasters should resemble a layered cluster of pumpkins.

With your black chalk marker pen, write who or what you're grateful for!
As an option, you can use twine rope to tie a ribbon on the popsicle stick for an added rustic feel. You can create a few sets of this to place on top of your fireplace or as part of a table runner design, paired with fresh or dried eucalyptus or whatever type of greens you want to decorate with! Just have fun creating and coloring these eye-catching ornaments to add a personalized touch to your Thanksgiving celebration.
Make sure you get the best ink flow and colors from your Chalkola Chalk Markers by checking out this helpful guide below. Happy creating!