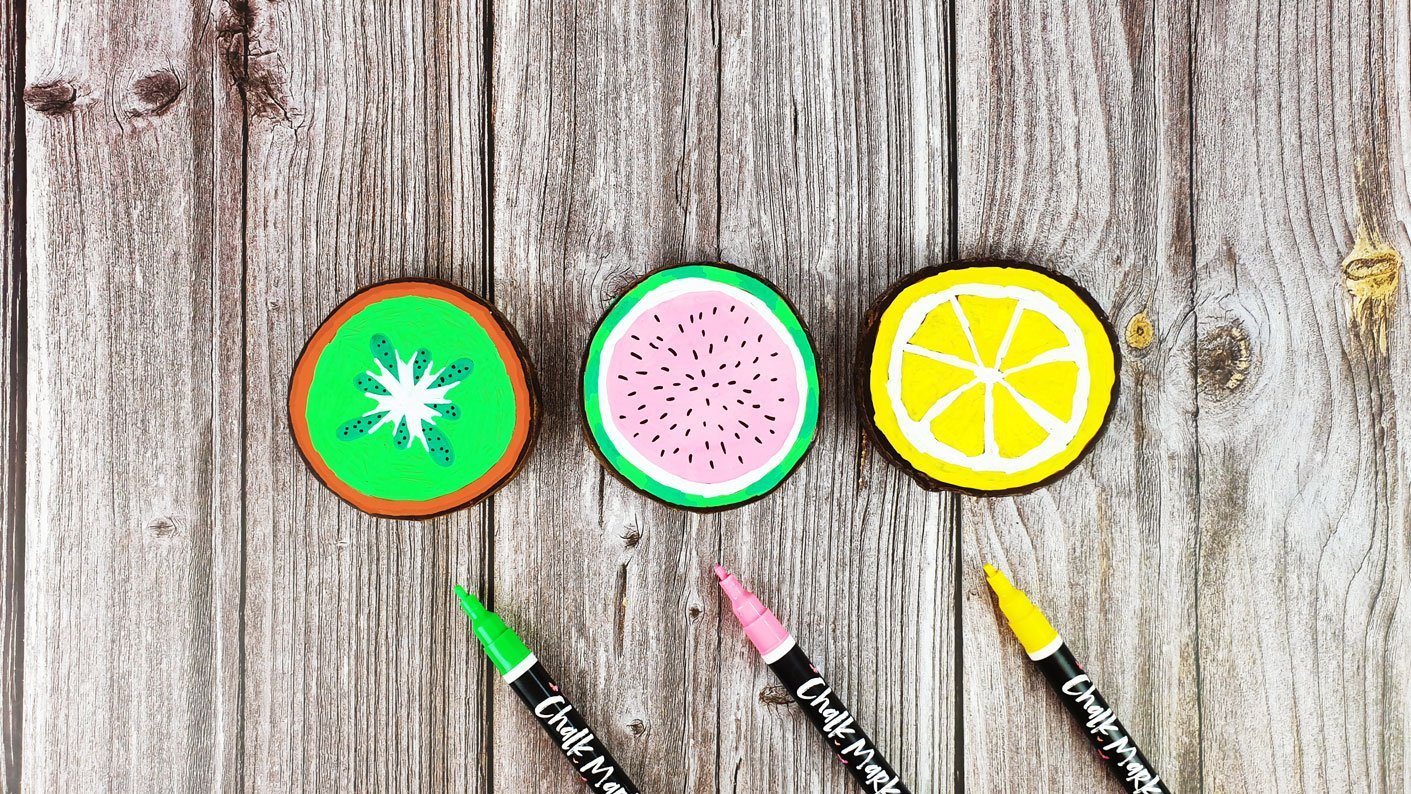 Plain wooden coasters are versatile and can be used on any occasion. Whether you're throwing a party or you just want to use them regularly, they're timeless, all natural, and can make any table setup look rustic and styled. Wooden coasters are also a great canvas for art. You can easily refresh them with colors and designs, especially when you want to use them in themed parties or events.
A perfect way to spruce up plain coasters for summer is to add pops of colors and cheery art–just like what we're going to share with you in our less-than-a-minute tutorial video. Here, we'll show you how to add bright citrus fruit designs on your coasters using our favorite Chalkola Chalk Markers. It's fun, beginner-friendly, and something you can also enjoy as an activity with kids, friends, and family.
Materials needed:

Ready to get seriously crafty and citrusy? Let's watch the quick tutorial video below!



Steps:
Prepare your plain wooden coasters and chalk markers. If you want variety, you can design each coaster with a specific citrus fruit, but if you want a uniformed set, you can pick out one design and apply it on all your coasters.

For the kiwi design, start by outlining the coaster with brown, and work your way into filling in the next layers of colors. Make sure the outline is already dry before you proceed to coloring so the ink won't smudge.

For the lemon design, outline the coaster with yellow. Draw and color the triangular details inside with a darker shade, and then immediately add a lighter yellow shade to blend. Fill in the outlines with white to make your yellows pop.

For the watermelon design, outline the coaster with light green, and then add darker green for detail. Work your way into filling in the layers of colors and designs, and don't forget to include black dots for the seeds.
There you have it! Citrus-refreshed coasters that are perfect for a summer backyard party!