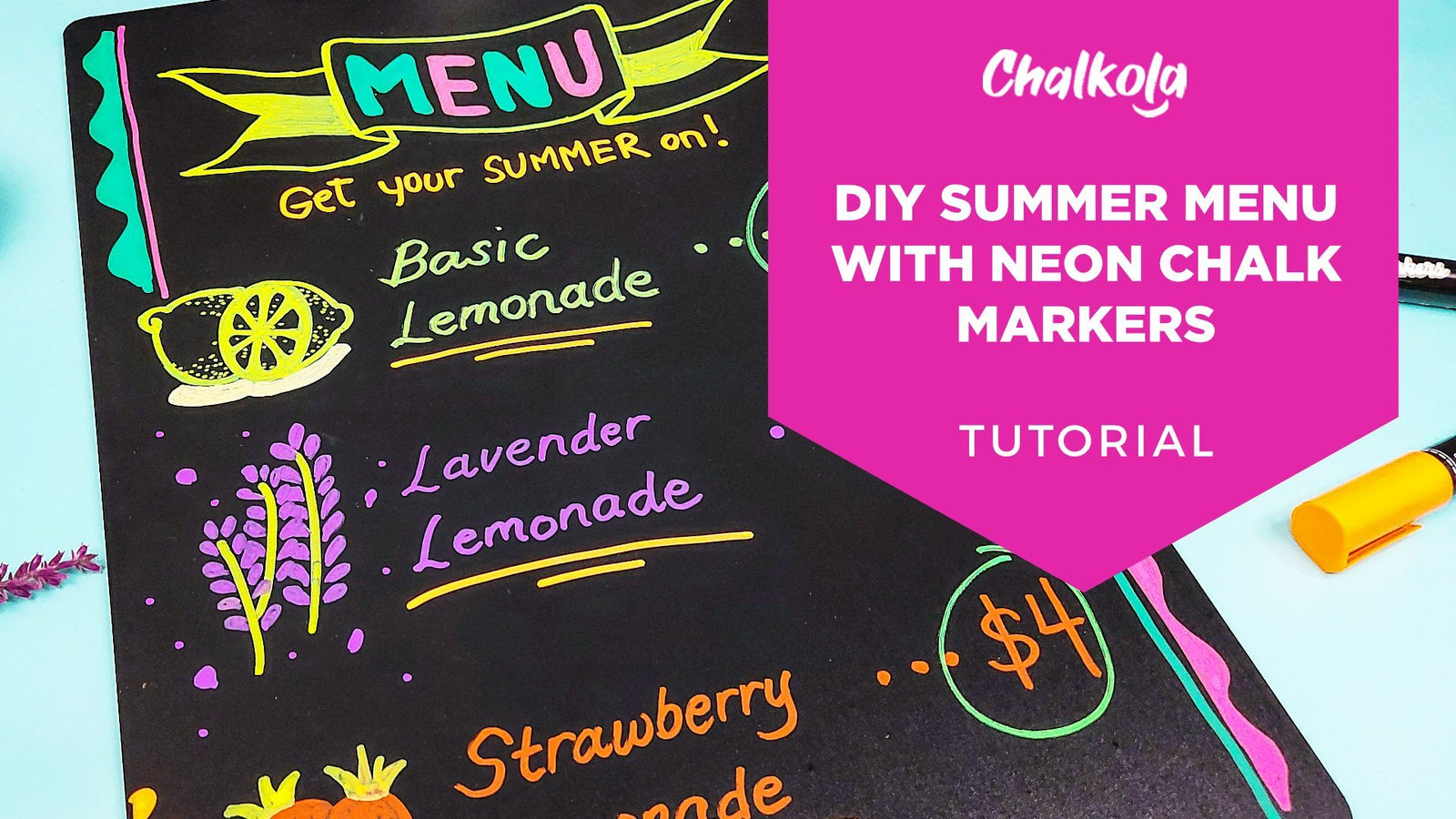 "I am thirsty, what's for drinks today?"
Can't we all relate to how many times we've heard this question? 10 out of 10 times this question is directed to mothers. You see, not only must mums be omnipresent in all things but they also need to be top-notch in the kitchen. It's a pretty demanding job description. 

Not only that, a smart and well writtenchalkboard sign can really drive your sales. Taking the time to carefully prepare a chalkboard menu can instantly grab the attention of customers, particularly when placed outside your venue on a busy footpath.
Colorful chalkboards also have the potential to reach a far wider audience via social media. If a photo of your topical or humorous blackboard message gets shared online, it can quickly go viral and tap into a whole new customer base.
This easy to make DIY chalkboard menu is not only a fun piece of décor but it's a fun way to keep you on track for your summer thirst quenchers! What better way to write this menu than with Chalkola's Electrifying Neon Chalk Markers?
Materials required:


Steps:
CHOOSE YOUR FAVORITE COLORS from our set of electrifying Neon Chalk Markers.


CHOOSE THE BEST PEN WIDTH - Neon chalk markers are available with the nib sizes of 3mm or 6mm. Each nib will draw different sized lines and should be chosen depending on the size of your chalkboard sign for writing smart, clear and well-defined words.


PLAN YOUR SPACING - Give your layout plenty of thought before diving into writing on your chalkboard. Planning your board design and layout on a sheet of paper beforehand is a great way of creating a stunning chalkboard menu or restaurant sign. Sketch out your design first, including any artwork. If you can fit your writing on a sheet of A4 paper with a pencil, it should be fine for your blackboard, but always remember that your chalkboard pen will be far thicker.


GET CREATING - Write down your menu and create different artworks around it to make it look artsy and you're all set! Refer to the video for an amazing example of a drinks menu. 


DISPLAY YOUR CREATION - Find a convenient place to place or hang your brand new drinks planning menu so it's easy to refer back to. Now you have a great piece of original décor to display that is also functional and affordable!
TIPS FOR USING OUR NEON CHALK MARKERS
Chalkola Neon Chalk Markers are really fun and simple to use to create beautiful works of art. Here are some techniques and tricks you can apply:
The chalk marker nib is reversible, simply pull it out and switch between a bullet & chisel point. 

Chalk ink erases easily from non porous surfaces like chalkboard, glass, windows, mirrors and more with a damp cloth. For erasing small details, you can use a damp Q-tip.

When coloring in a large section, make sure to go slowly to get even coverage and prevent streaking.

If you haven't used your chalk markers in a while, you may need to reactivate the markers to get the ink flowing again.
STORING YOUR NEON CHALK MARKERS AFTER USE
Proper maintenance can help extend the life of any art supplies. When you are done using the chalk markers, put the cap back to prevent the ink from drying. You also should store them upright and not horizontally so make sure the ink doesn't seep out the tips while they're not in use.

With a little practice and a few imaginative ideas, you too will be on your way to creating fun and festive menus to use for entertaining or to add some of your personality when decorating your home. Decorative menus can truly add a personal touch to your surroundings. 

We hope you enjoyed this activity! We can't wait to see what you created. Tag us @chalkola and use the hashtag #madewithchalkola for a feature!