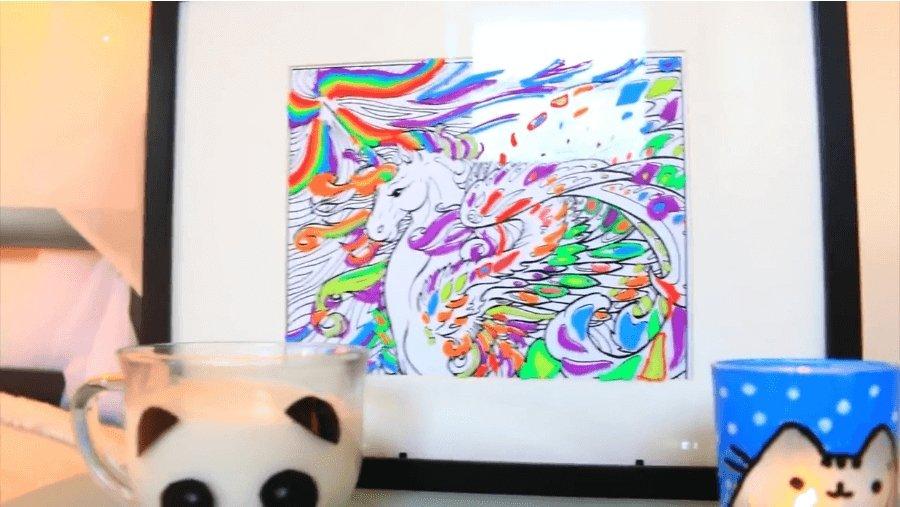 Coloring books for adults have gained so much popularity over the years–and rightfully so–as using them offers respite from the hustle and bustle of daily life. Most people find these activity books therapeutic and relaxing, too. If you're a fan of these beloved books, then you've come to the right place. Here, we'll show you a new twist on coloring using Chalkola Chalk Markers. This will also allow you to use your favorite coloring page over and over with different colors each time!
Materials needed:
Your favorite coloring book
Blank picture frame
Damp cloth (for cleaning)
Ready to take adult coloring to the next level? Let's start!
It may not look exciting at first but you'll get hours and hours of enjoyment from this project.
You can use any color scheme you like on your favorite picture and then do it differently the next time.
Step 1
First, choose one of your favorites from the coloring book. It may be one that you haven't colored yet because you're saving the best for last.
Step 2
Once you've chosen your coloring page you'll need a frame to mount it in.
Step 3
Set the picture face down in the frame and secure the back. Once you're done, it should look like this: the front covered with glass and the back attached to keep the picture in place.
Step 4
Now, you're ready to thoroughly enjoy yourself and relax! Fill in the spaces with the brilliant colors of Chalkola's Chalk Markers using any combination you wish.
Step 5
Once you're finished with your picture, you can simply wipe off the colors with a damp cloth.
Step 6
Now you have your favorite coloring page completely blank to enjoy again!
There is no limit to creative fun when you have Chalkola Chalk Markers!
Also read: Light up your Life with this Adorable Kitty Votive