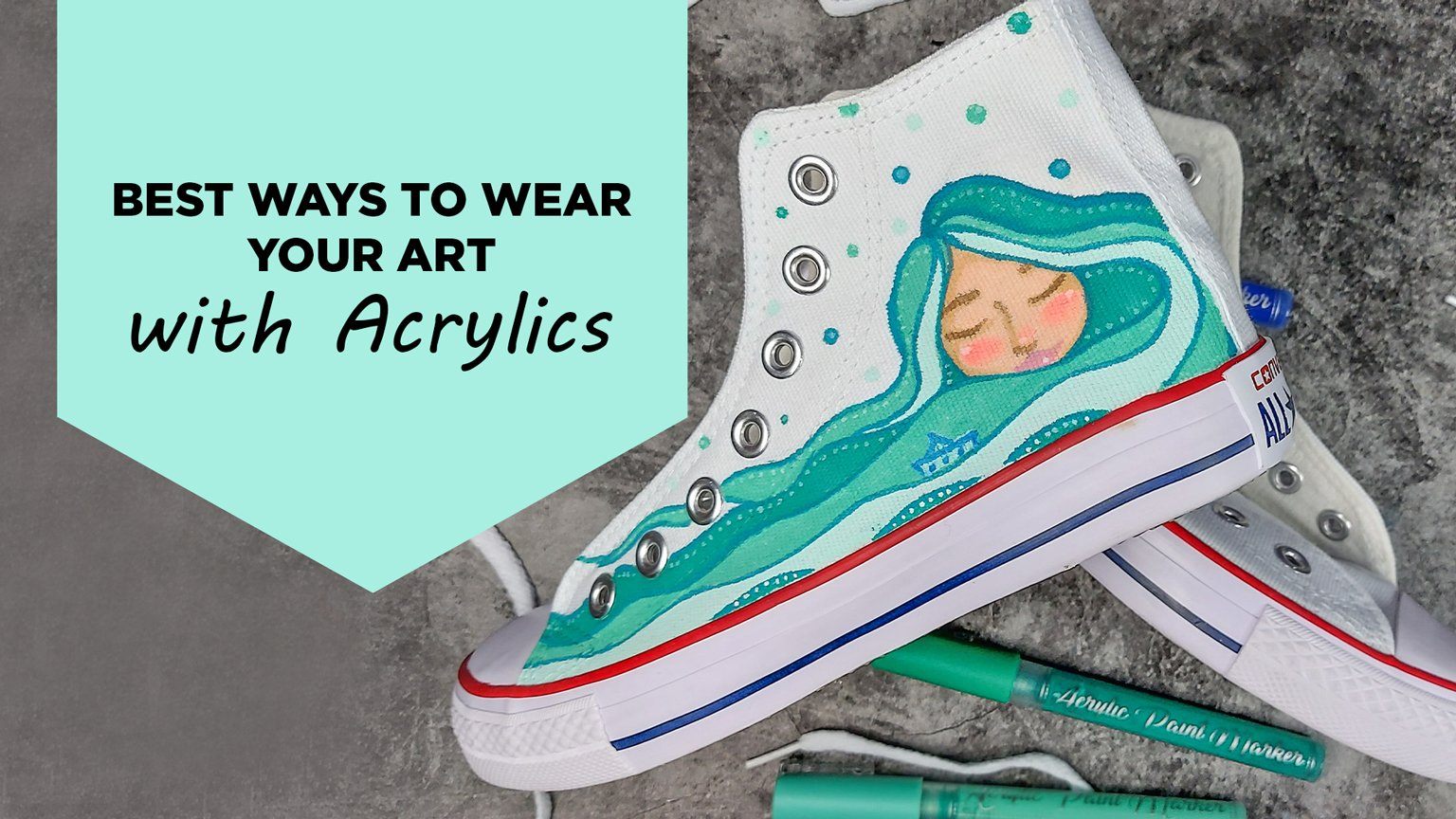 If you're looking to take your creativity to the next level, we've got the perfect idea just for you, create wearable art using acrylics! 
Acrylics offer so many incredible possibilities for both beginner and seasoned artists. They feature the buttery and opaque quality of oil paint, yet take very little time to dry. They can also be used on virtually any surface, especially on materials that you can wear. Plus, instead of using smelly and toxic solvents for thinning paint to achieve a more luminous effect, you can simply combine a bit of water to adjust the consistency of acrylics. These are just some of the many convenient factors that make acrylics the ideal art medium for creating wearable art.
Excited to use clothing as your new canvas and wear completely unique designs? We've rounded up 13 of the best wearable art ideas that you can easily recreate using acrylic paint or acrylic paint markers!
Getting started on this art project is super easy. Just grab some acrylic paint or paint pens, a couple of brushes, water, something to paint on, and you're ready to go!
Design your clothes
In this time of fast fashion and overproduction, artists and designers are turning to recycling, handcrafted techniques, and customized pieces, creating uniquely designed clothing that you can also hang on your wall–something you can easily achieve with acrylics. Whether you want to design the front, back, or even just the pocket or sleeves of your top; or add accents to your denim shorts or jeans, you'll definitely stand out while wearing your own art!
Other ways to design your denim shorts or jeans
Paint on your shoes
Kick off your creative journey by wearing your artwork right and left on your feet! Most sneakers or espadrilles are made of canvas, which is the most popular surface for acrylic painting. So you can have tons of fun customizing your shoes with all the colors and designs you love.
Other awesome designs on espadrilles and sneakers
Add art to your slippers
Acrylic paint markers have different nib sizes, the 3mm being reversible with a round nib and a chisel nib. So it will be easy for you to transition from doing fine details to bold strokes as you design your rubber or plastic slippers.
Be a bag designer
Tired of your plain old bag? Whether it's made of canvas or leather, you can easily customize your bag using acrylic paint. If you want to paint on a large surface of your bag, say a laptop bag, it's best to use acrylic paint and a fine- to medium-sized brush for better coverage and more flexible application. For smaller bag surfaces or for precise detailing, you can use acrylic paint marker pens with fine 3mm nibs or extra fine 1mm nibs.
Acrylic painting artworks on canvas bags
Personalize your wallet
Another great item to design is your wallet. Instead of replacing it with a new one because you're tired of its design, give it a refresh by painting or illustrating on it. You can use acrylic paint and a fine brush for this project, or acrylic paint markers with extra fine 1mm nibs if your wallet surface is smaller.
Acrylic painting on a canvas sling wallet
Cook up your own apron artwork
An apron is a good piece to work on because it has a large surface and is usually made with thicker fabric that's ideal for acrylics. Practice your calligraphy on it or paint fun little food artwork prints, much like a digitally printed design–but of course, hand-painted is always better!

Daily Accessories
Hand-painted phone case
This isn't technically wearable, but your phone wears the case, which is something you use or have in your hand all day–it's probably the most used item you have! And just like our outfits, we love changing up our phone cases every now and then. So why not paint on your old ones instead. This way, you get to save on purchasing a new case and express your creativity at the same time! 
Painted laptop case
Another frequently used device is a laptop, especially during these days of remote work. To brighten up your long working hours at home, why not add some creative touch on your laptop case, or on the laptop cover itself if you're feeling extra art-venturous. As we say, just...create!
Or...Painted computer keyboard!
You can also color-code or design your computer keyboard with fun prints using acrylic paint and acrylic paint markers. To make sure the colors hold up as you'd be constantly typing on your keyboard, just seal the painted keys with a thin coat of clear varnish.
Custom-painted umbrella
If you're up for the challenge, open your umbrella and paint on it! Design it with a vibrant artwork or beautiful, fine details. We recommend using acrylic paint and a paint brush for this, so you can carefully apply the paint on the material without needing to press hard on it. Once you're done, you'll be wishing for light rainy days just to show it off.
Skateboard artwork
Art isn't new to skateboarders. In fact, most skaters even have their skateboards custom painted with awesome designs in electrifying colors. As most skateboards are made of wood, acrylic paint can be easily and smoothly used on them. You have to be careful though, because skateboards are also used on rough platforms like ramps and cement, so it's best to cover your acrylic painting with a protective finish like a clear sealer.
Design your journal cover
This may not be wearable, but if you still prefer taking notes or creating to-do lists on paper, or if you're one to keep a journal, then a notebook is something you use everyday. You can definitely put your own stamp of creativity on the cover, and bring your doodles into the pages as well.
Paint on a PVC pencil holder
If you have a notebook, then you most definitely have a pencil case! If it's not holding pens, then you may be using one for makeup, a first aid kit, charger holder...whatever it may be, you can definitely design on it using acrylic paint markers.
Temporary tattoo
Literally wear your art on your skin for a few hours or the whole day! You don't have to worry about getting an allergic reaction or irritation, as all of Chalkola's acrylic paint products are non-toxic and can easily be washed off with soap and water. So if you've been dreaming about getting a tattoo but still on the fence about it, you can enjoy the feeling of having one temporarily with acrylics. This is also a fun art activity to do for kids and adults at parties or events.

New to acrylic paint markers? Here's a helpful video on how to activate them and keep the ink flowing smoothly and correctly at all times.
Now you have some awesome ideas to take you from creating on just one surface to painting on unique ones that you can wear! The more you paint, the more you'll learn, and the better you'll get. We hope these ideas inspire you to keep going. If you get stuck, you can go back to this blog or check out the Art Creators' Hub to discover other techniques and new ideas using acrylics and other art mediums! Happy painting!