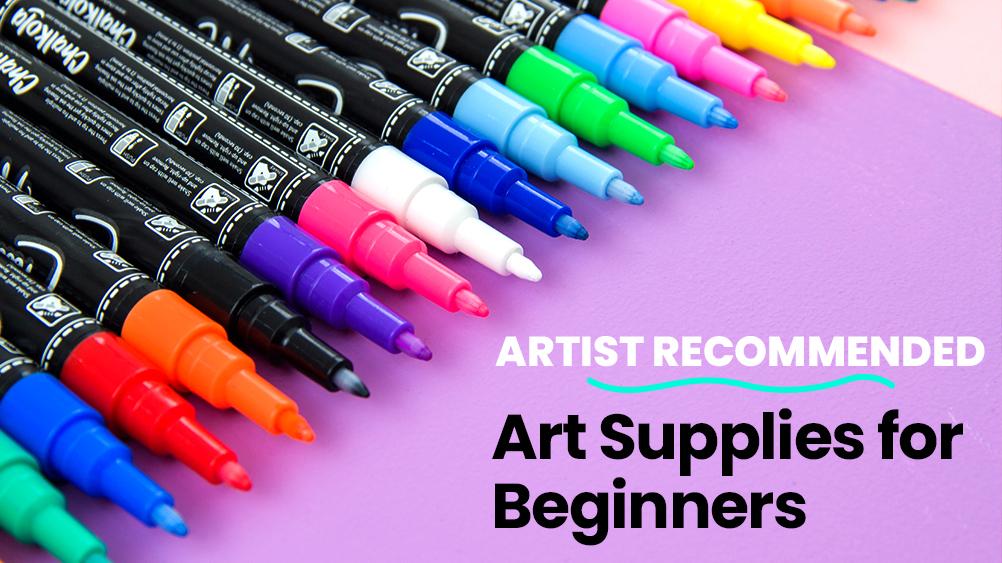 Best Art Supplies for Beginners
If you want to start unlocking your art skills but don't have an inkling of where or how to begin, you've come to the right place. To help you get started and figure out what suits your creative style, we've asked our very own brand ambassadors to recommend the best Chalkola art supplies for beginners, so you can decide which art technique to focus on using the right tools and mediums. Whether you're into illustrating, painting, or lettering, these top-rated essentials should do the trick in sparking your creativity.

Let's see what these multi-talented artists have to say.


"My favorite thing about the chalk markers is the incredible range of colors and how vibrant they are. With so many colors, I can let my imagination go wild and create anything I come up with!"
- Georgina Cahill | Artist, Designer, and Illustrator

Guess what? Georgina was also our guest artist blogger last December!
For those who are into both digital and traditional art, you can find great tips and an awesome tutorial by Georgina on how to Turn Traditional Artwork Into Digital Stamps. Bonus Q&A included in the blog post.


Neon, Pastel and Metallic Colors Chalk Markers - Pack of 40

"I totally recommend Chalkola's acrylic markers to any beginner artist because they come in such a beautiful array of colors, are super vibrant, and are so versatile. All artists, especially when starting out, need to invest in affordable products that are easy to use and they can learn with while creating beautiful artworks! I'm a full-time artist and I absolutely adore using Chalkola acrylic markers in my daily work!"
- Hannah Simon | Artist and Painter
 Acrylic Paint Marker Pens - Pack of 40, Fine Tip

"Most beginners really struggle with control when it comes to watercolor, and the fact that layering can end up ruining your paper when you do it wrong. The watercolor brush pens let you try out the watercolor aesthetic and a more liquidy texture without having to fight for control of the pigment – it doesn't leak anywhere and it's really bright the moment you put it down."
- Rowan Shnir | Artist and Painter
Watercolor Brush Pens | 28 Colors, 15-Sheet Paint Pad & 2 Blending Brush

"My favorite medium is watercolors and I'm so in love with this beautiful watercolor set by Chalkola. The paints are so soft and vibrant. They work really well for both beginners and experienced artists. They have 36 colors and are acid-free, plus, they blend so well with other colors and are very easy to use. You can use these watercolors for school projects, journaling, and other creative activities. This is my favorite watercolor set that I've used so far."
- Madhurima Sen | Artist and Painter
Watercolor Paint Set (36 Colors, 12 ml Tubes, 0.4 oz.)

"I recommend Chalkola's acrylic paint for beginners, especially the 64 set, because it has so many shades which makes finding and mixing the right color very easy!"
- Ava Hall-Zschenderlein | Artist and Painter
"The acrylic paint comes in a large set with tons of colors! The paint applies smoothly and it's a fun set to experiment with!"
- Nicole Yee | Artist and Animator
Acrylic Paint Set, 22ml Tubes - Set of 64

To get you started on your creative journey, check out these free and easy art tutorials for all kinds of artists, or go to the Art Creators' Hub for a more comprehensive view on how our art tools work and how you can use them in so many different ways.