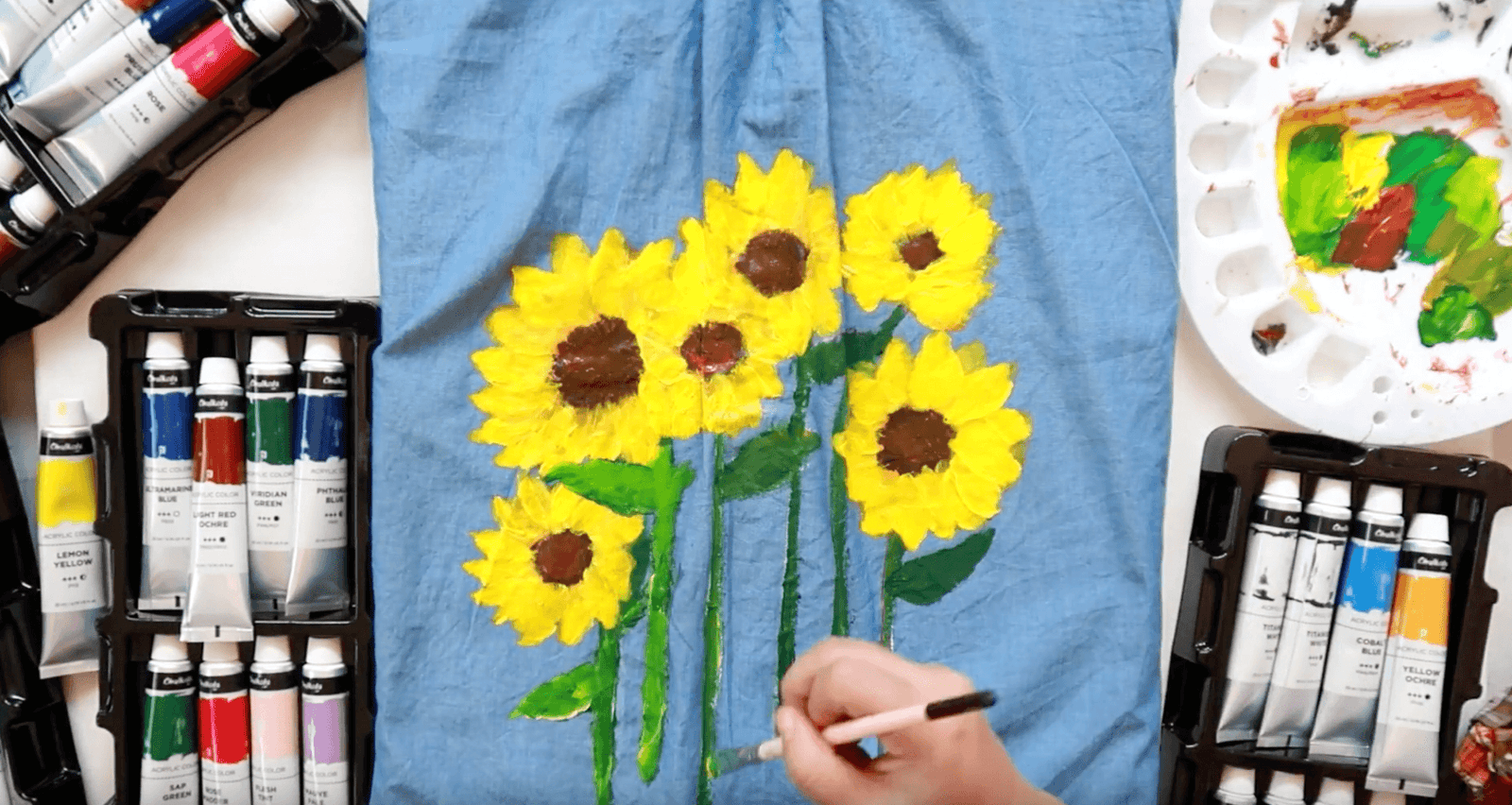 Have you always wanted to be a fashion designer? Or are you looking for a creative way to upcycle an old piece of clothing by embellishing it with fun prints? Maybe you want to create a signature pattern on your favorite wardrobe pieces? If you answered yes to one of these questions or to all, then this art tutorial is perfect for you. 
Today, we'll show you how to create wearable art using acrylic paint.
Acrylic paint is one of the most versatile art mediums as you can use it on virtually any surface. It's the best choice if you want to paint on fabric, leather, wood, rocks, or other unique surfaces. With that said, let's start upcycling and designing clothes!
Materials needed:
Paintbrush
Paint palette
Bowl of water (for cleaning your paintbrush)
Clothing piece of your choice
In this art tutorial video, we'll share easy steps on how you can paint bright and cheerful sunflowers on an old denim dress.
Steps:
Use white paint to draw the outline of your flowers. It's best to use white as your base paint so the colors you'll be layering on will stand out against the colored fabric.
Next, layer on the color yellow for the flower petals.
Create yellow green by mixing green and yellow for the leaves and stems.
Add depth to the leaves and stems by adding another shade of green.
You can also add subtle details to the petals by using a deeper shade of yellow.
Use brown to paint the center of each sunflower.
For the final touches, add your last layers of paint to make the sunflowers really stand out (and tall)!
You can personalize other pieces like jeans, shorts, shirts, shoes, or even caps. With acrylic paint, you can really take your art skills to the next level.
For other fun ways to customize your wardrobe and other accessories, check out this fantastic list on 13 Best Wearable Art Ideas Using Acrylics. Happy painting!