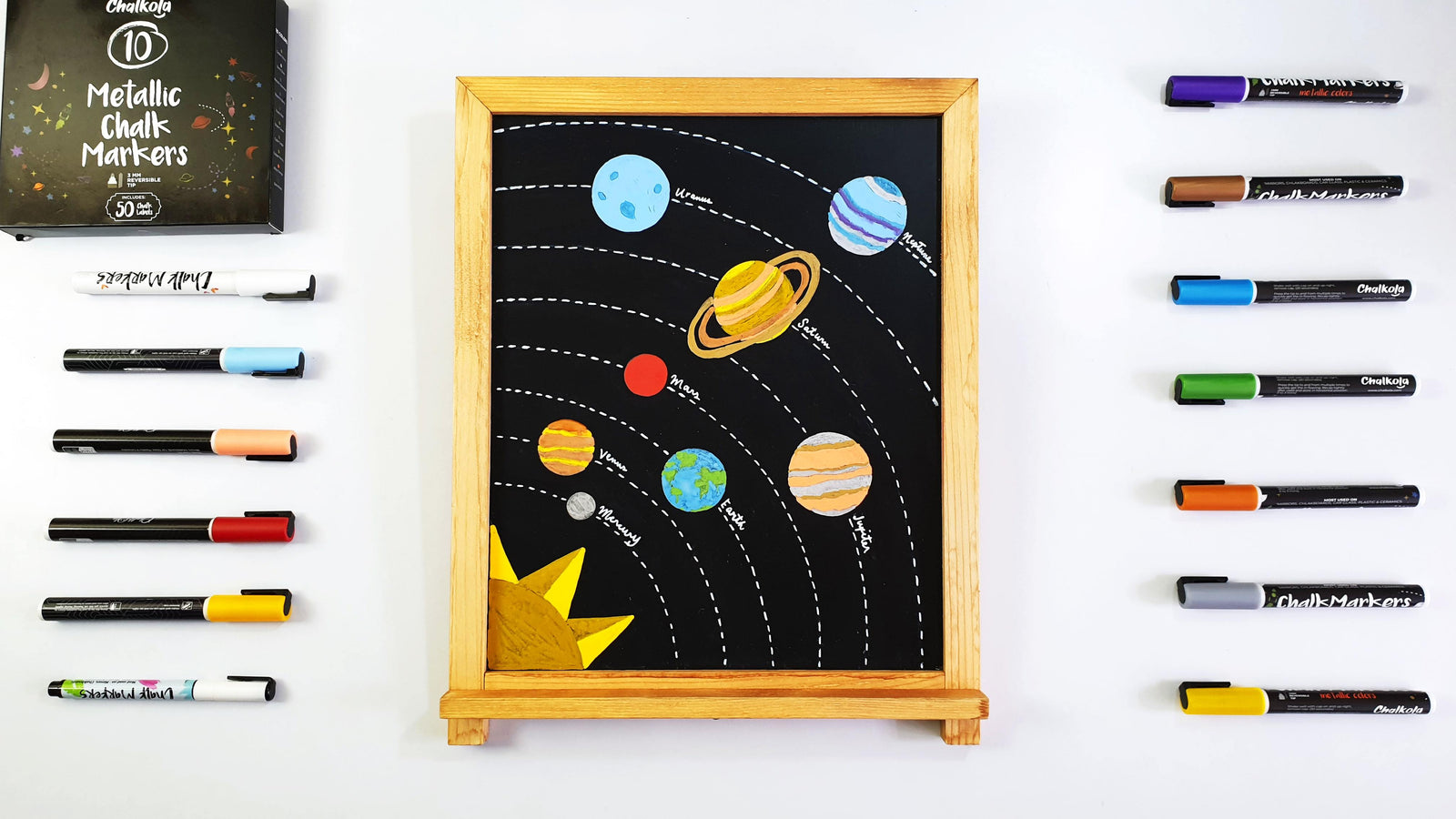 The solar system has always been a fascinating subject for kids and adults alike. Having formed 4.6 billion years ago (or so) from the gravitational collapse of a massive interstellar molecular cloud, there's still so much to be explored and discovered in outer space.
For now, we can only marvel and learn more about the wonders of the sun and the planets around it. To start, let's put some art into it, and draw the solar system in all its marvelous colors and glory. You don't need to be a pro artist to do this either. In fact, chalk markers and a chalkboard are all you need to create an impressive illustration of the solar system, and if you have kids joining you, this can be a wonderful learning tool for them, too!
Materials needed:

An updated copy of the solar system (remember, Pluto isn't considered the ninth planet anymore!)
Ready to make a stellar drawing of our planetary system? Let's watch the video below to find out how easy it can be!
Steps:
Prepare your materials. On your chalkboard, create an outline of the solar system using a white chalk pen, so you won't have to second-guess the spacing, shapes, and sizes of the planets in your solar system as you draw and color.
It's great to start with the sun at the bottom left part of your chalkboard so it can serve as your base for all the other planets (literally!).
From there, start coloring the other planets. To make them pop, use two colors for each planet, or even use a third one for details so they won't look like flat circles. Metallic markers are highly recommended for this artwork because they have a shimmery effect that can make the planets look truly galactic!
Once you're done coloring the planets, draw a broken line of their axis using a white chalk pen, and then label each planet as a simple and easy learning technique for kids!
It's out-of-this-world easy, right? With chalk markers and a chalkboard, you can really reach for the stars when creating artworks or easy and colorful learning tools for toddlers.
Want to make sure you're getting the most colors and fun out of your chalk pens? Here's a great video filled with tips on how to get your colors flowing smoothly and other creative chalk art ideas that you can draw inspiration from!