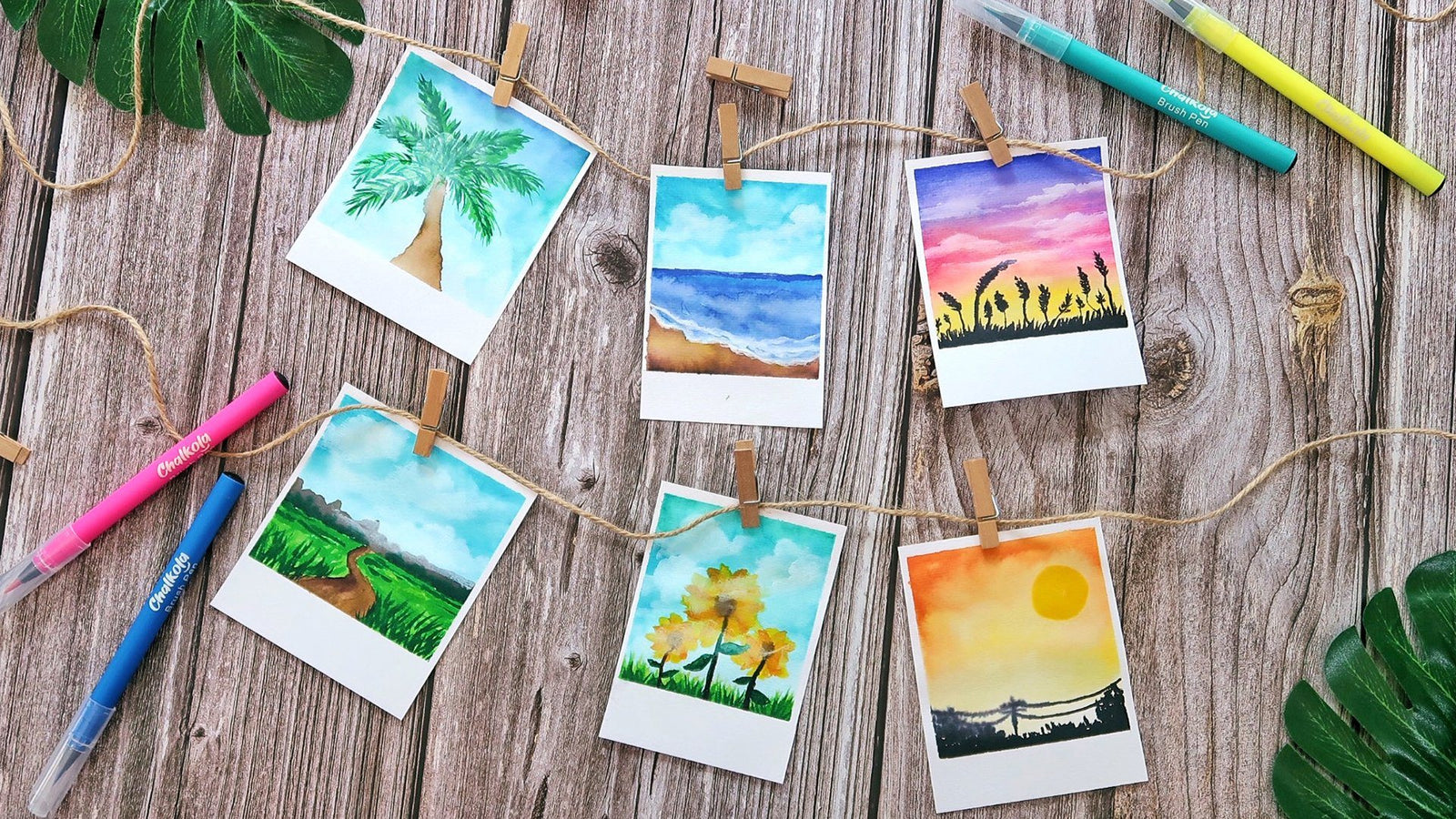 Traveling to your dream destination may not be physically possible right now, but you can always let your mind wander and visit any place you want through art. In fact, you can do that right now, at home, using your imagination, creativity, and watercolor brush pens. We'll show you how you can perfectly capture a stunning landscape or a vivid sunset with this awesome art activity, which combines the beauty of watercolor and the timelessness of a polaroid picture. 
Materials needed:

Cutting mat

White card stock paper

Masking tape

Paint brush
Ready to go places and create memorable art? Let's watch the video we've prepared to guide you through this colorful journey!



Steps:

Before you start this artivity, decide the six destinations that you'd like to capture through watercolor art. You can browse your old vacation photos for inspiration, or go for places you haven't been to and plan to visit in the future.

Prepare your materials. On the center of your cutting mat, lay your card stock and tape it on the sides, and then equally divide it into six sections.

On your first section, start painting your picture. Don't worry about the ink going over the masking tape. You'll be removing that later on.

Once your gradient background paint is dry, work on the finer details, like trees, flowers, animals, or other elements you want to add to your picture.

Continue working on the rest of the sections with different hues, views, and details. You can use the same color combinations for all six pictures if you're going for a themed look, or choose completely different ones like we did.

Done painting your six sections? You can now carefully remove the masking tape to reveal the white borders that make them look exactly like polaroid pictures. 

As an option, you can clip your polaroid artworks on a twine rope and hang it on your wall as a photo banner.
With imagination and creativity, you can certainly go places without leaving your homes. All you need are your favorite art tools and a good dose of inspiration and wanderlust!