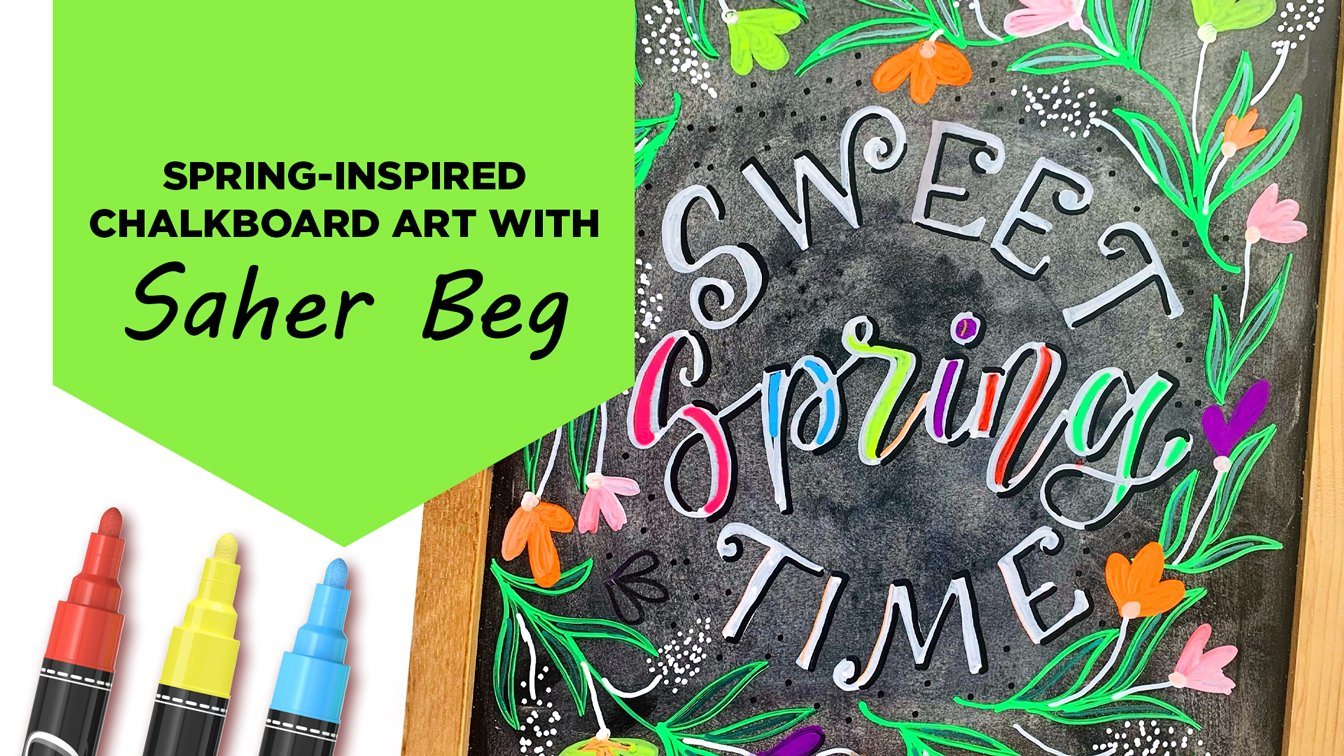 Chalkola's Featured Artist | Saher Beg
It must be said that spring should be cherished and relished until the very last day, a season considered by many to be the most beautiful time of the year. 
As we make the most out of our spring fling, we had a refreshing virtual chat with Canada-based calligraphy artist and painter, Saher Beg, to find out her secret to creating dazzling artworks, and expressing her creativity on a variety of surfaces through lettering, drawing, and painting.
Here, she gave us helpful tips and techniques to make your own incredible art. We loved interviewing her and can't wait to share her fresh perspective on calligraphy, what inspires her, and how you can find your own style as a beginner!
Meet the multi-talented artist, Saher Beg.
Hello, Saher! Tell us a bit about yourself.
Hello, all! I am so excited to be here today. My name is Saher, an artist behind @letteringbysaher, a wife to my better half and mom of a 2.5-year-old, Little Miss. I live in the beautiful city of Ottawa, Canada.
What's the story behind @letteringbysaher?
I love to draw. I get my inspiration from the things around me. My mantra is the more you practice the better you get. I started my hand lettering journey 3 years ago and got completely obsessed with it. Then I opened an Instagram account and started sharing my work. From there I started working on different mediums such as watercolor, acrylics, and chalk. I love to create on paper, canvas, ceramic, glass, chalkboard, wood, and rock. There is nothing more joyous for me than to sit with my colors and create my imaginations. Having said that, it makes me go to bed very late at night (because I have a toddler at home, lol!!!). 
My family has been my biggest supporter, always encouraged me to be creative. I wish to keep on enhancing my creativity as I believe the sky's the limit. You can find all my creations on my Instagram @letteringbysaher.
What Chalkola product do you love creating with?
Chalkola has got some amazing colors. I have used them on canvases and chalkboards. From acrylics to chalk markers, all are my favorites. It's wonderful to be able to use them on a variety of mediums. I wish to try their brush pens very soon.
We're lucky to have this chance to see how Saher creates her remarkable art in the video she shared with us below. Whether you're creating for spring or other seasons, or want to add colors and creativity to your space or any kind of event, this tutorial can help you come up with eye-catching letterings and designs using your art medium of choice. 
Spring-Inspired Chalkboard Art
I instantly fell in love with Chalkola Chalk Markers the moment I used them to create my art. They are so bright and smooth! I decided to make a simple spring chalk art tutorial for you all. I hope you like it.
To get started, you will need the following materials:
Paper towel

Pencil

Cotton buds
Prepare your chalkboard by rubbing some white chalk on it (optional). I like to create a dusty look for my board. That makes it look more natural and highlights my black shadows.
Use a pencil to create faint outlines of your work.
Next, start writing your text with your favorite color. I used 

white chalk marker

. You can either write simple text or use Faux Calligraphy. Use a black marker or a cotton bud to add shadows to your text.
Now, fill in the words with some bright colors to enhance the look.
Then start adding leaves and florals starting from the top and work towards the bottom. I tried mixing two colors together using a small slate. Try adding different colors to make it look bright and beautiful.
...And voila!
Tips:

You can create a rough draft of your work on paper for your reference.
Keep cotton buds handy to wipe off any unwanted color.
Paper towel helps to soak any excess color that you might mistakenly pump from your chalk marker.
Find more of Saher's amazing artworks here:
Instagram: @letteringbysaher
Etsy: creationsbysaher
If you enjoyed learning how to do a bright and beautiful lettering artwork on chalkboard straight from a professional artist, you might want to check out this tutorial on Abstract Garden Painting Using Acrylics with Debbie Grossman. Happy painting!