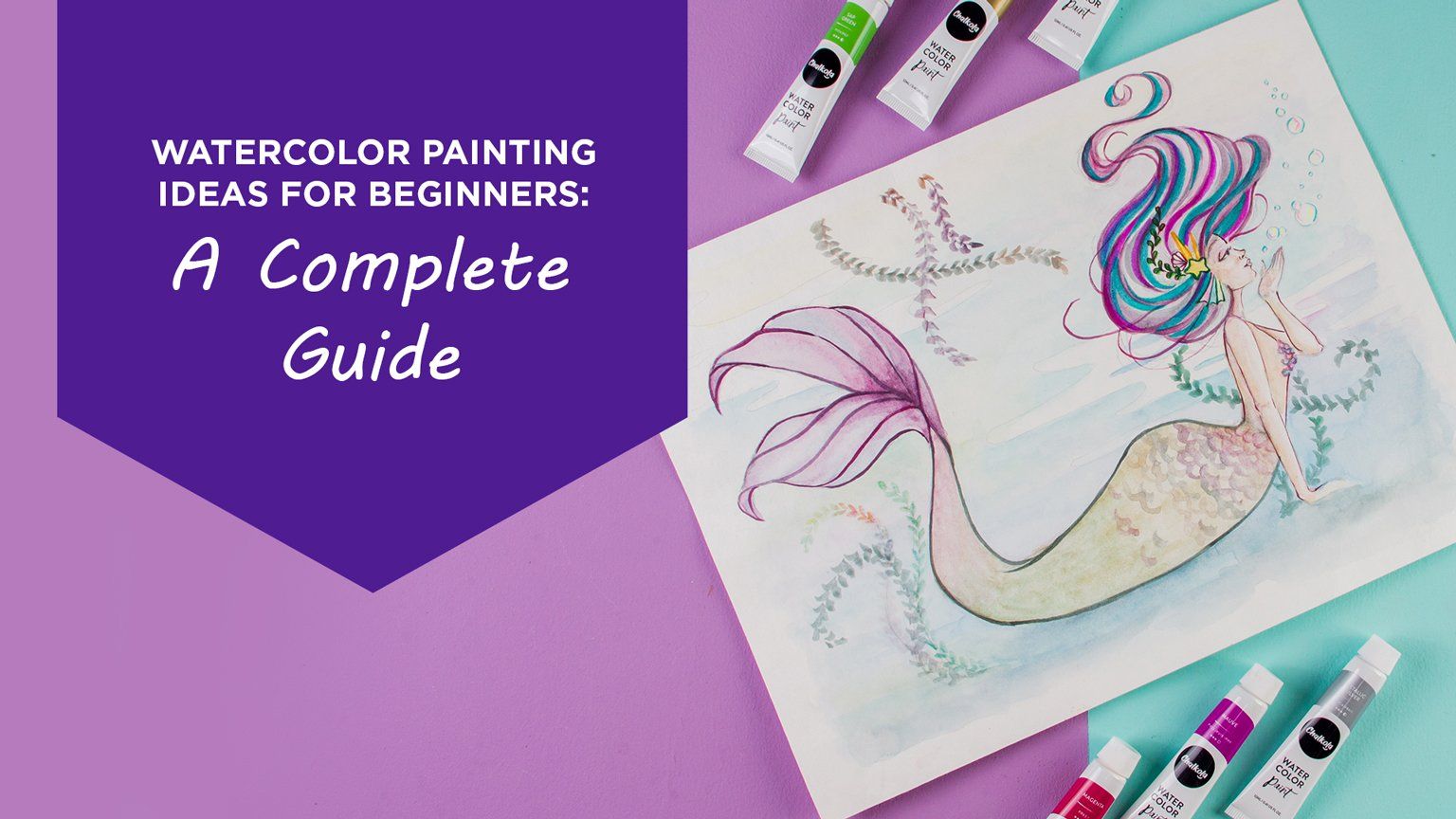 Watercolor painting is such a rewarding painting method because you get to play around with color combinations, applications, gradients, and layers, among other things. It's also an exciting way to express your creativity because it gives you the freedom to explore different techniques and create your own style.
If you're looking to get started with watercolor painting or you're looking for practice ideas to get your creative juices flowing, you've come to the right place. This comprehensive list of easy watercolor painting ideas is perfect for beginners and for those who want to get inspired to paint again.
Essential Watercolor Painting Supplies

Paint brushes

Paint palette

Watercolor paper

Jar of clean water (or two -- one for dipping clean brushes in and one for rinsing paint off your brush)

Paper towel

Pencil
If you're always on the go, consider getting a set of watercolor brush pens that already includes 2 blending brushes and a premium painting pad, so you can practice painting whenever and wherever.
5 Important Watercolor Painting Techniques to Help You Master the Medium
1. Have a range of paint brushes
It's important to have different sizes of paint brushes so you can work on small to large pieces with ease. For smaller artworks, your brushes can range from 000 to six. Explore what works for you by practicing strokes using different sizes. It's important to note that small brushes always come in handy for little details and finishing touches.
2. Buy good quality paint
Invest in good quality watercolor paint because it will last longer, it won't degrade or discolor over time, and you won't have to use too much whenever you paint to achieve vivid colors.
3. Explore wet and dry
The two most basic factors in watercolor painting are wet and dry. As watercolor is a water-based medium, you can manipulate the opacity and saturation of the pigment depending on the amount of water you add. Find what works for you so you can easily control the paint's movement and density.
4. Always work from light to dark
Watercolor is the most flexible paint because it's blendable and layerable. So make sure to always start from light to dark by gradually applying more paint as you go along, because once you start with dark right away, it will be difficult to adjust the opacity and saturation of the paint.
5. Work clean with paper towels 
For starters, paper towels can act as a paint blotter, eraser, water absorber, and brush cleaner in one. Sometimes, we apply too much paint or water which tends to bleed onto other parts of the artwork, and paper towels can help rectify this problem by gently using them to lift away the excess paint or water on your paper or canvas.
Check out this list on the different watercolor painting techniques that you can practice with. 
Easy Watercolor Painting Ideas
Now onto the fun part! We hope this awesome selection of easy watercolor painting ideas spark your creativity and inspire you to start painting and creating! 
Paint Flowers and Trees
"Nothing in the whole world is of interest to me but my painting and my flowers." - Claude Monet
Nature has inspired countless artists to recreate its beauty on canvas. Flowers, with their dazzling colors, details, shapes, and sizes, in clusters or in full bloom; and trees, with their multi-colored leaves and beautifully crooked branches, some bearing fruit and some with birds perched on them are always the perfect subjects for watercolor painting as you can practice doing lines, strokes, and details, and combining colors to achieve that perfect spring or autumn palette.
Paint Fruits and Plants
"Don't be afraid to go out on a limb. It's where all the fruit is." - Shirley MacLaine
If you've got fruits or a potted plant in front of you, paint it. You'd think fruits and plants are easy to paint but it can also be challenging to capture small nuances in still life, like shadows, gradients, shades, and the tiniest of details that make your subject unique. With daily practice, you'd be painting fruits as lively as Picasso's Fruit Bowl with Fruit (1918).
 
Paint Animals and Insects
"I would like to paint the way a bird sings." - Claude Monet
Animals are interesting and remarkable painting subjects because much like humans, they have unique characteristics, features, mannerisms, and movements that make you want to recreate them down to a T -- from their soft fur to their delightful snouts and soulful puppy dog eyes, painting animals and insects is good practice and good for the soul.
A purr-fect way to get you started. Watch this video on how to paint a cat using watercolor brush pens:
Paint Landscapes and Skyscapes
"A landscape painting is essentially emotional in origin. It exists as a record of an effect in nature whose splendour has moved a human heart, and according as it is well or ill done it moves the hearts of others." - Walter J. Phillips
There's no better way to capture a majestic landscape or a magical skyscape than by painting it. This is where combining colors to achieve a gradient effect can be most useful to capture that subtle shift in the sky's colors, whether it be day or night.

Here's an easy-to-follow tutorial video on watercolor landscape painting:
Paint Characters and Facial Features
"What I am seeking is not the real and not the unreal but rather the unconscious, the mystery of the instinctive in the human race." - Amadeo Modigliani
They say people and facial features are the most challenging painting subjects because of their complex forms and subtle nuances. This may be true at first, but as you find your own painting style, you can paint your subjects based on your own vision and creativity. The goal is to express how you see and feel about your subjects through painting, so don't hold back and create art your way -- whether through abstract painting, realism painting, or even line art or watercolor drawing. Once you get the hang of how to use watercolor paint, you can own the technique and paint in your very own unique approach.
As your starting point, you can practice on cartoon characters first. Go from doing one-dimensional forms and work your way to painting real-life ones.
Say it with watercolor. Learn how to draw lips in this video:
Other Watercolor Painting Ideas to Explore
Calligraphy, Journaling, and Greeting Card Paintings
Check out this bonus beginner-friendly tutorial video on how to paint a beautiful watercolor postcard:
Food Paintings
Seasonal and Holiday-Themed Paintings
Abstract and Object Paintings
For more watercolor exercises, click on this easy and relaxing watercolor tutorial compilation for beginners:
Enjoyed the list? We've got more for you. Here are 13 Best Wearable Art Ideas Using Acrylics that you can easily do using materials you already have at home and some acrylic paint! Happy painting!