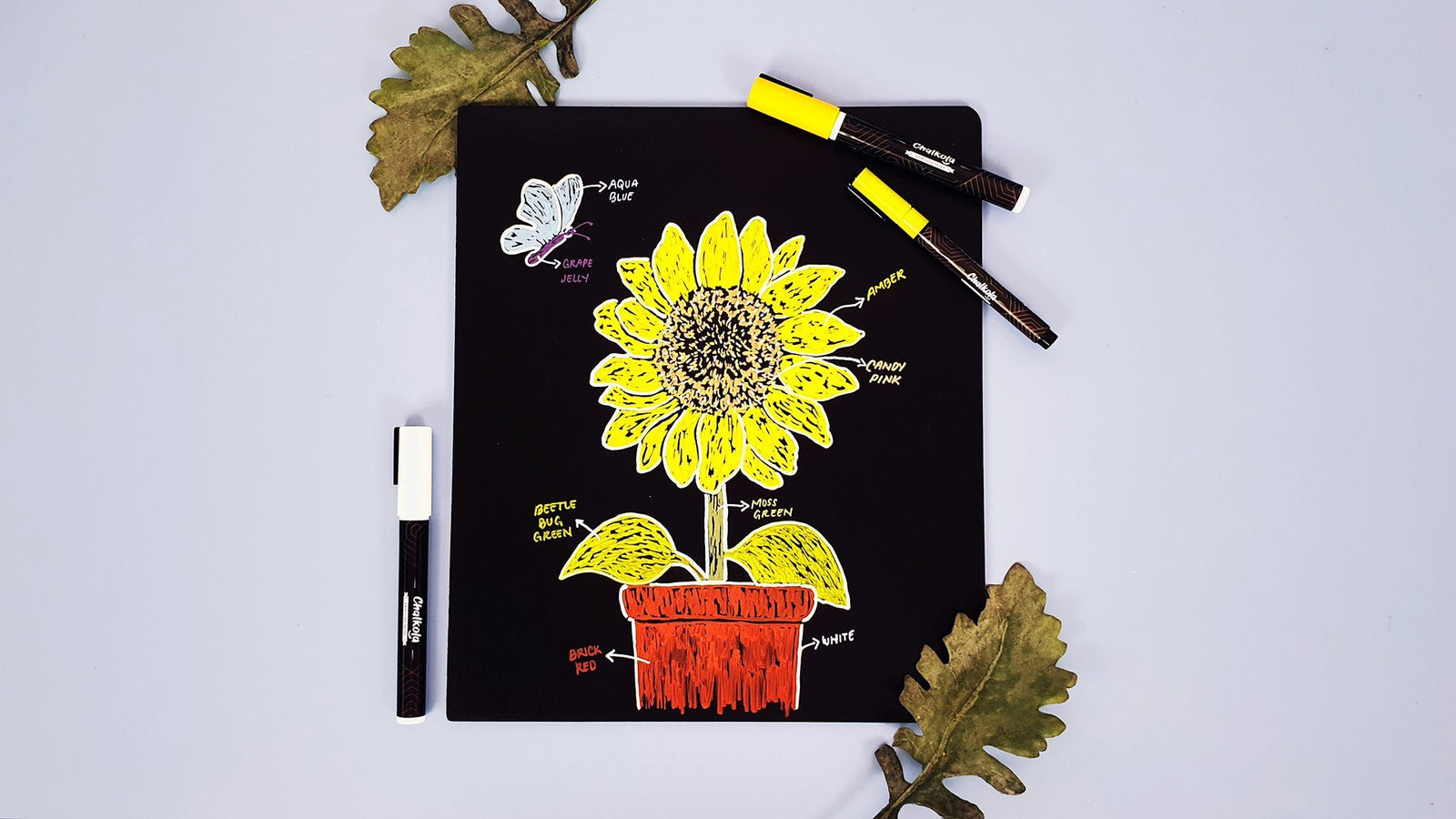 During trying times, sometimes we just need to stand a bit taller and look towards the sun – like the majestic sunflower. Seeing a field of bright yellow flowers can't help but put a big smile on our face. Poets and writers have composed odes to this regal flower for centuries. William Blake, an English poet, painter, and printmaker in the Romantic Age even wrote about them in "Ah! Sun-flower" in 1794. Being the radiant and comforting flowers that they are, sunflowers are in full bloom and at their peak during the months of July, August, and September, making them perfect for summer and fall flower arrangements and decorations.
To add cheer to your garden or yard, it's always a great idea to plant sunflowers for some inspiration every day. But, if you can't plant them, paint them!

While we're spending more time at home right now, we have the chance to incorporate these cheerful blooms into our space, whether by planting, painting, or drawing. Today, we're going to start with drawing and painting them using liquid chalk markers in rich and warm earthy colors – and you can just get to the 'planting part' when you can.

To make this art activity more inspiring, we'll throw in a few of our favorite sunflower quotes for you to enjoy!
William Blake
English Poet, Painter, and Printmaker (28 November 1757 - 12 August 1827)
"Ah! sunflower, weary of time,
Who countest the steps of the sun,
Seeking after that sweet golden clime,
Where the traveller's journey is done;
Where the youth pined away with desire,
And the pale virgin shrouded in snow,
Arise from their graves and aspire;
Where my sunflower wishes to go."
Helen Keller
American Author and Political Activist (27 June 1880 - 1 June 1968)
"Keep your face to the sunshine and you cannot see the shadow. It's what sunflowers do."
Pedro Calderon de la Barca
Spanish Dramatist and Poet (17 January 1600 - 25 May 1681)
"Light-enchanted sunflower, thou who gazest ever true and tender on the sun's revolving splendour."
William Cullen Bryant
American Poet, Writer, and Editor (3 November 1794 - 12 June 1878)
"And the yellow sunflower by the brook, in autumn beauty stood."
Allen Ginsberg
American Poet and Writer (3 June 1926 - 5 April 1997)
"We're all golden sunflowers inside."
Marie Williams Johnstone
English Creative Writer
"True friends are like bright sunflowers that never fade away, even over distance and time."

Maori Proverb
"Turn your face to the sun, and shadows follow behind you."
With these beautiful and inspirational words in mind, let's start 'growing' our sunflower on a chalkboard!
Materials needed:
Non-porous chalkboard or any surface of your choice
Watch how you can make your sunflower artwork bloom before your very eyes!
Steps:
Prepare your materials. Draw a faint outline of your sunflower.

Start filling in your outline with the rich and earthy colors of Chalkola Chalk Markers.

To make your colors pop brighter against the dark chalkboard surface, use a 

white chalk marker

 

to define the outline of your sunflower artwork.

Add more fun to the artwork by labeling the parts with the colors used on them!
That was fun, right? Why not spread the sunflower cheer to the whole neighborhood by drawing sunflowers on your window, as you can easily wipe it off whenever you want! Here's how vivid an artwork can be on a glass surface – check out 
How to Draw a Tiger on Glass Using Chalk Markers
. Happy painting!