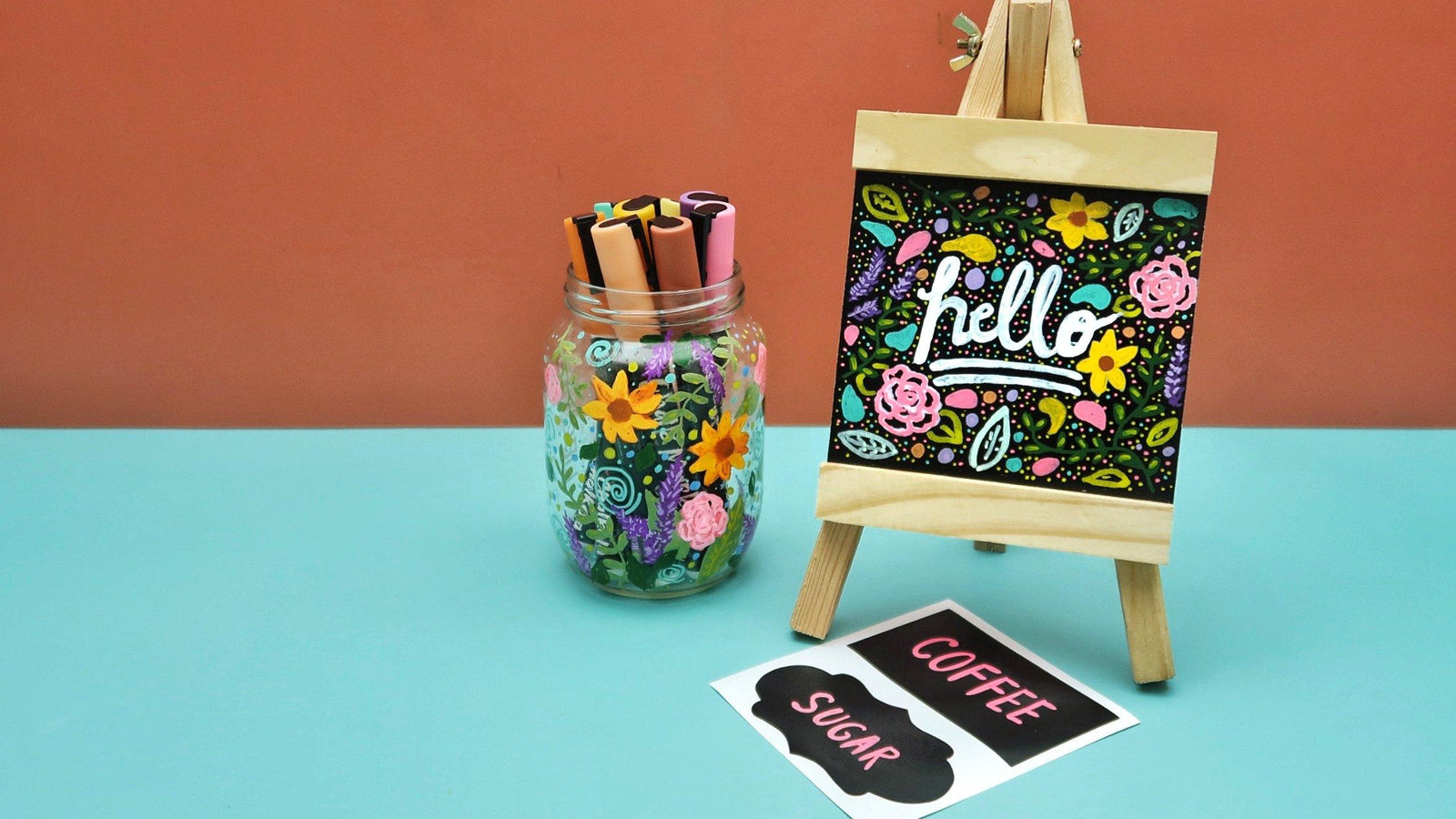 Chalkola Chalk Markers are one of the most versatile and convenient art tools you can have at your disposal. Aside from the wide range of spectacular and ultra pigmented colors, the variety of nib sizes (with a reversible option of a round tip and a chisel tip for the 3mm and 6mm markers), and the many different surfaces you can use them on, liquid chalk markers are also non-toxic, odorless, dust-free, water-based, durable, and most importantly, kid-safe. Phew! They really are the best markers for artists of all ages.
You can use these markers in so many ways -- for artworks, menus, recipes, signs, announcements, calendars, presentations, creative learning activities, window displays, and so much more -- at home, school, work, and play. What's more, you have the option to create temporary or permanent artworks with them. It all depends on the surface you choose. Here's a quick guide to help you out:
For temporary artworks, use non-porous surfaces:
Glass and mirrors

Porcelain

Plastic

Rubber

Vinyl label and contact paper

Whiteboard

Metal

Glazed tile

Slate board and coasters
For permanent artworks, use porous surfaces:

Paper

Canvas

Wood

Fabrics

Concrete

Porous chalkboard

Dry wall

Painted wall

Materials that absorb liquid
What if you want to make your art on a non-porous surface permanent, how do you seal the chalk marker ink? 
You can make chalk marker art permanent on non-porous surfaces by sealing over the chalk marker ink using spray sealants. All you have to do is apply up to three coats of sealer over the chalk marker ink if you don't want it to be erased. Make sure you allow each coat to dry before spraying again. Once you do this, your chalk marker art will be sealed and permanent. 
Watch the video below on how to seal chalk ink on different non-porous surfaces.
You can use any of these sealants:

Polyurethane sealant

Clear acrylic spray

Fixative spray
Now that you know how to make chalk ink permanent, get inspired and start creating art on different non-porous surfaces at home. Check out this awesome blog post on How to Do Calligraphy on Mugs Using Chalk Markers for your next DIY project. Happy creating!