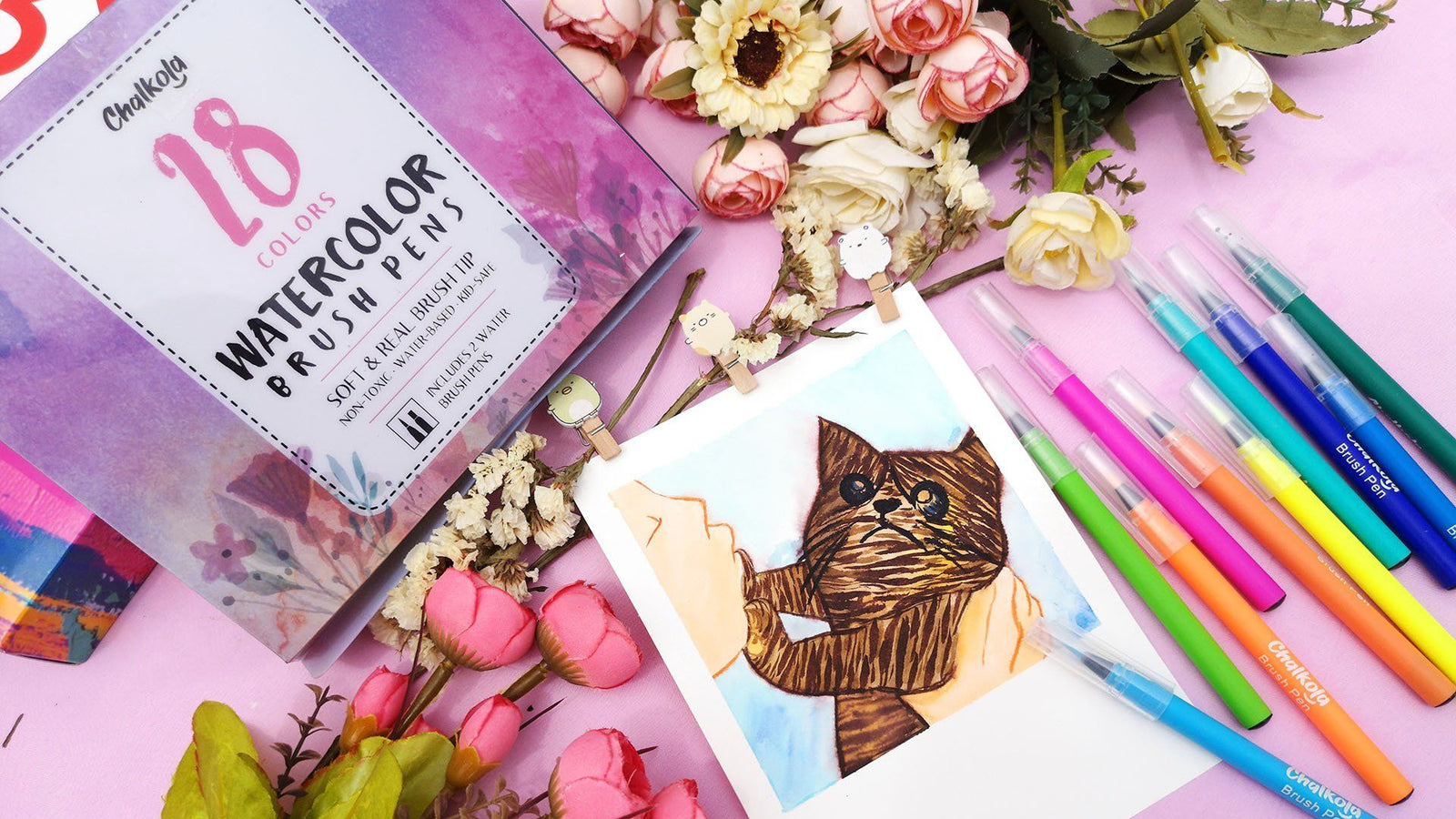 If you're a cat lover like we are at Chalkola, you probably have countless photos and videos of your cat or other cats saved on your phone to cheer you up on a bad day. So we thought we'd have a little fun and take our cat fandom to the next level. Today, we're going to show you how to paint a cat using watercolor brush pens. These brush pens are the purr-fect choice for this art activity because you can easily achieve the beautiful effects of watercolor in a convenient pen form. Aside from the 28 brilliant colors included in Chalkola's watercolor brush pens set, it also comes with two blending brushes and a premium watercolor pad, so you have all the materials you need to paint your masterpiece whenever creativity strikes!
National Pet Day is coming up soon on the 11th of April, so this is another great reason to celebrate our little fur friends as you practice your painting skills at the same time. To get started, you just need the following materials listed below:
Ready to create this cat artwork with us? Then let's get this paw-ty started!
Steps:

Prepare your materials. On your watercolor pad sheet, draw an outline of your cat. It doesn't have to look hyper realistic if that's not your style. You just have to capture the unique features, mannerisms, or expressions of your cat on paper. How you know your cat will translate in your illustration no matter your technique or style.

Once your outline is done, start filling it with colors using your watercolor brush pens. 
Tip: A simple hack is to trace your outline with your color of choice, and then start painting the inner parts. This gives you a clearer definition of your outline and helps you paint within the lines, seamlessly blending the outline and the shading. When you're painting, it's always best to start light so you can easily adjust and blend the colors as you paint. If your cat is multi-colored, you can start with semi-transparent colors and then gradually darken the shades as you go along. Use your blending brush with a little bit of water to smoothly distribute the paint pigment.

Done painting your cat? Time to add those cute little features, like their adorable Puss in Boots eyes, tiny mouth, and fine whiskers. You can still go back and add more details to their fur like stripes or patches if you want, as watercolor is a flexible and blendable paint that you can keep adjusting and adding layers to.
Now that you have a painting of your cat, you can choose to frame it or stick it on your fridge to put a smile on your face each time you see it. We're sure it will make any space you display it in even purr-tier! If you enjoyed painting your feline baby so much, let's do a bigger cat next time with this wild art activity on How to Draw a Tiger Using Chalk Markers. Happy creating and see you next week for another fun art tutorial!