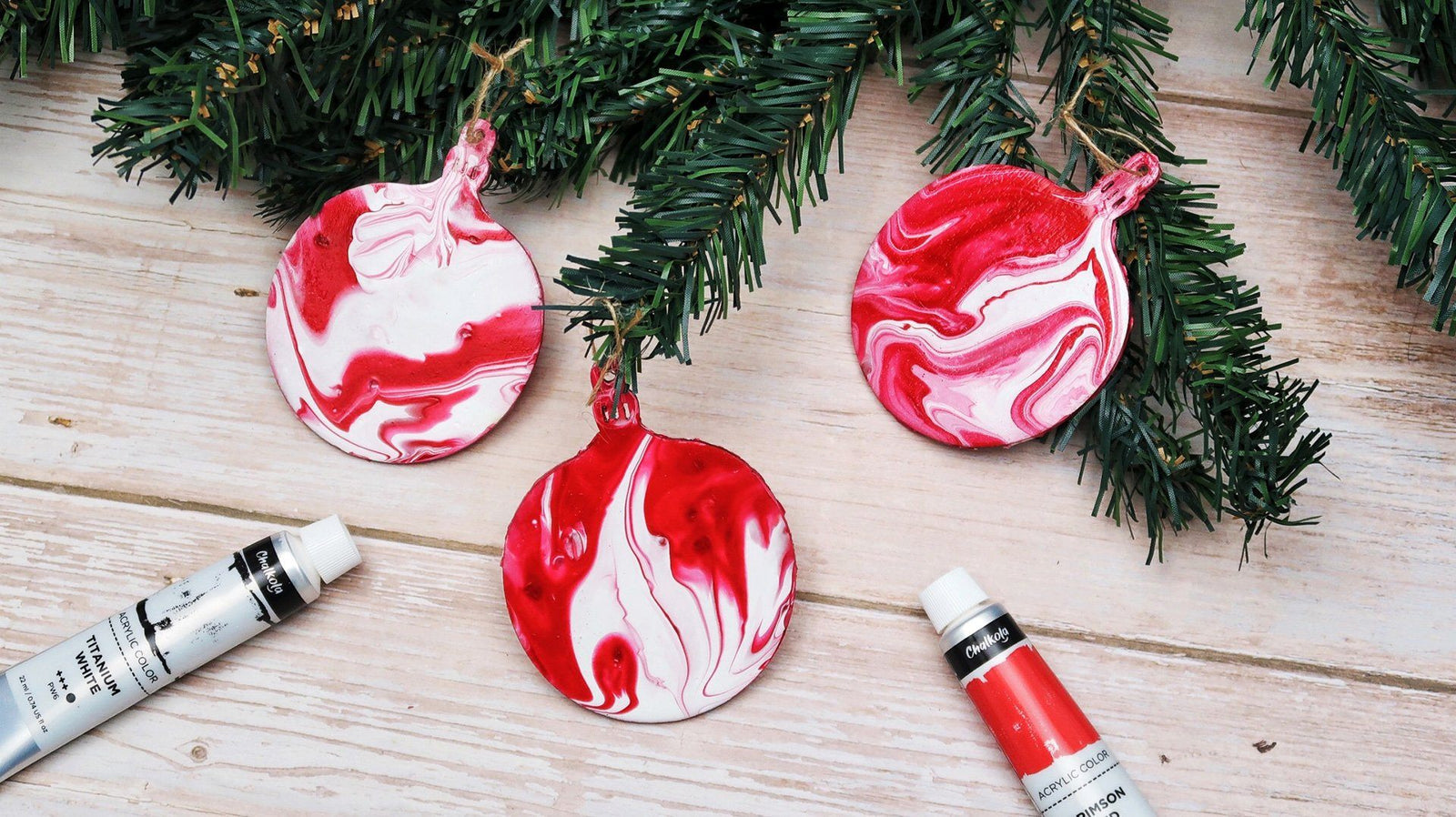 Designing ornaments is a great opportunity to get artsy and colorful, and to bring everyone together for a wonderful time of creating. For this holiday art activity, instead of drawing or painting on your decorations, we're doing it the acrylic pouring way. It may sound a bit intimidating or complicated, but it's actually easier than you think, and only requires a few basic materials. Once you try it out, you'll be a pouring pro in no time. So, ready when you are!
Materials needed:

Wooden ornaments

Acrylic flow medium

Cups (to mix paint in)

Popsicle sticks

Plastic, mat, or thick paper (to protect the surface you'll be working on)
Got everything laid out? Let's get pouring together by watching the quick video below.

Steps:

Pour some acrylic paint (we used Crimson Red) and acrylic flow medium in a cup, and stir using a popsicle stick. You'll know they're already properly mixed when the color appears bright again (not milky) and the texture is thicker.
Repeat this process with a different acrylic color (we used Titanium White). For this second color mixture, we suggest you use something neutral or go with Titanium White, like we did, because we'll be combining this with the first color mixture.
Once you're done with your neutral or white, pour it into the cup containing the first color mixture. Don't mix it with a popsicle stick this time, as we want the unique two-toned paint swirls to show.
You can now pick up your wooden ornament and pour the mixture over it. Carefully move your ornament from side to side to make sure the paint covers the entire surface. Repeat the process for all your ornaments. If you run out of mixture, just make another batch using the same color combination or a different one.
When you've finished pouring, allow your newly painted ornaments to dry for 24 hours.
Wasn't that fun? Now that you've decorated your first batch of ornaments, why not try this technique on other plain materials that you've been wanting to add artworks or designs to? Don't be afraid to mix and match your acrylic colors–we're sure you'll come up with something unique and spectacular each time. We're excited to see what you create, so tag us with your artworks on Instagram @chalkola, and use the hashtag #ChalkolaArt for a chance to get featured. Happy creating and have a merry and bright holiday season!