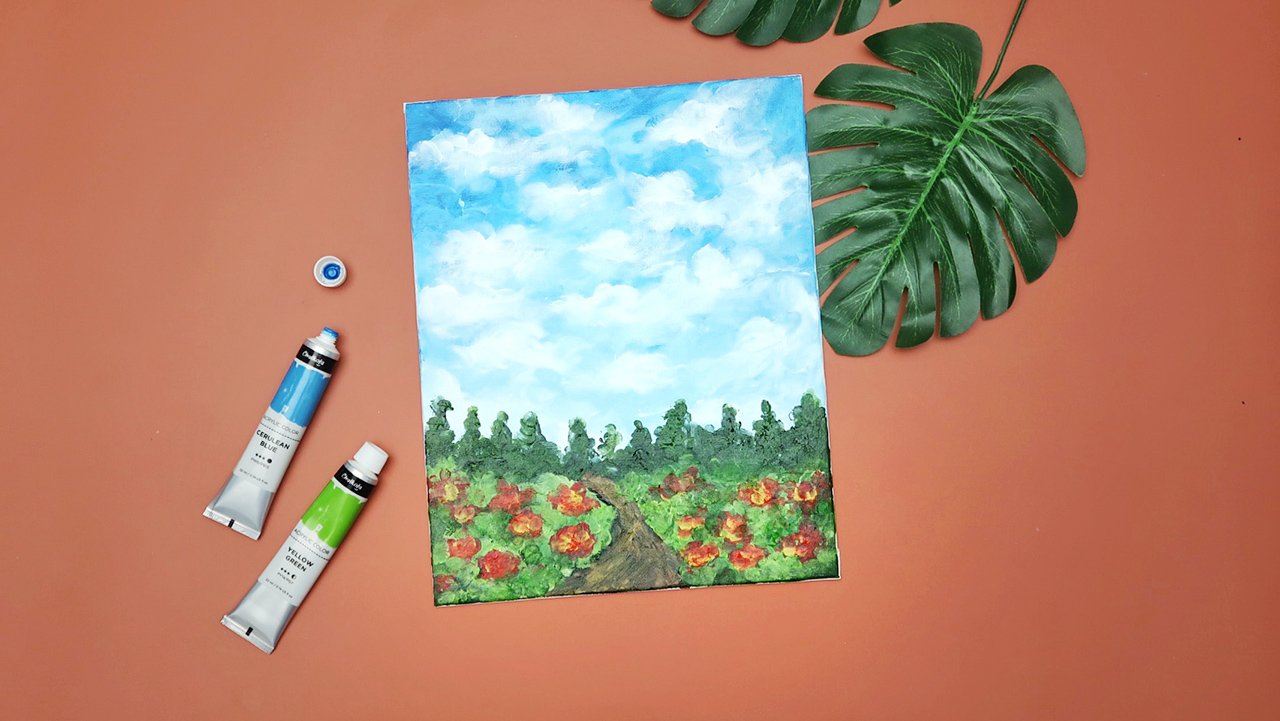 Some people find it easier to paint with brushes, palette knives, and the like, whereas some prefer to use their fingers to apply paint on the surface they're working on. The latter may seem messy and challenging, but it's actually a great way to get acquainted with paint and its qualities as you control the strokes and have a feel for its texture firsthand. Whether you're a professional artist, a beginner, or a hobbyist, finger painting is an exciting experience that will fuel your creativity even more.
Today, we're going to show you how you can use your fingers to create art on canvas. But first, let's dive into how finger painting actually works.
What is finger painting?
Finger painting is a creative technique of applying and spreading paint on paper, canvas, or any painting surface using the fingers.
What are the benefits of finger painting?

Simple art technique with just three supplies: paint, canvas, and palette

Easy way to familiarize yourself with paint and its texture

Helps you learn how colors work and how to blend them

Allows you to control the paint strokes firsthand

Strengthens your finger and hand muscles

You get to create unique art based on your finger size and movement
How do you create art with finger painting?
It's as easy as it sounds. Much like how children do it, all you have to do is dip your finger in paint and apply it on the canvas. The key here is to make sure you already have a clear vision of what you want to paint. A no-fail idea is to work on a landscape first. Why? Landscapes already have a combination of essential elements in one view: different colors, unique shapes, and interesting subjects -- so you can practice painting all these details in a single image and in one go. 
What is the best paint for finger painting?
There's no limit to what you can do with paints. You just have to know which one has the ideal consistency that would hold well on your fingers. Let's start with watercolor, which is always a great art medium to work with. However, for finger painting, it can be too runny when you use your hands to paint with. Then there's oil, which may have a thicker consistency and can be easily manipulated by hand, but it's quite tricky to remove on skin and may require a paint remover to clean off completely. It also has a stronger odor than most other paints so it may not be the best choice for skin contact. Acrylic paint is by far the best option for finger painting as it has just the right consistency that applies beautifully even by using your hands alone. It can also be used on canvas with minimal to no water, depending on the thickness and texture that you want to achieve with your artwork. Moreover, like watercolor, acrylic is easy to wash off with just soap and water. No mess, all fun!
With that said, let's dip our fingers in vibrant acrylics and start creating our landscape painting!
Materials needed:
Palette

Bowl of water (in case you want to add a bit of water to your paint or to wash off the paint on your fingers)
Steps:

Lay out your materials. Put the following colors on your paint palette: Cerulean Blue, Titanium White, Orange Yellow, Lemon Yellow, Yellow Green, Sky Blue, and Mid Green.

Dip your finger in Cerulean Blue and start painting the upper part of your sky. Create a gradient effect by transitioning to Sky Blue and mixing in Titanium White for the lower part of the skyline.

Then, follow up with Mid Green for your tree line. Don't be afraid to paint on some green over the lightest part of your sky. This will achieve a nice contrast that will make your paint strokes and colors stand out.

Next, dab on some Yellow Green on your trees to add layer and dimension to your artwork.

For the grass part, add Lemon Yellow to make it look bright and lush. Create a road path using any brown shade, and use Crimson Red or Rose Madder to paint beautiful blooms along the way.
And there you have it -- your first landscape masterpiece painted entirely with your fingers as your art tool! Continue practicing on other subjects and experimenting with different strokes and styles, and you'll be a pro at finger painting in no time. If you want to learn another painting technique using acrylics, check out this wonderful post on how to create a fall-themed acrylic painting using a spatula. We hope you enjoyed dabbling in paint with us, and keep checking our blog section for more fresh art tips and easy tutorials!