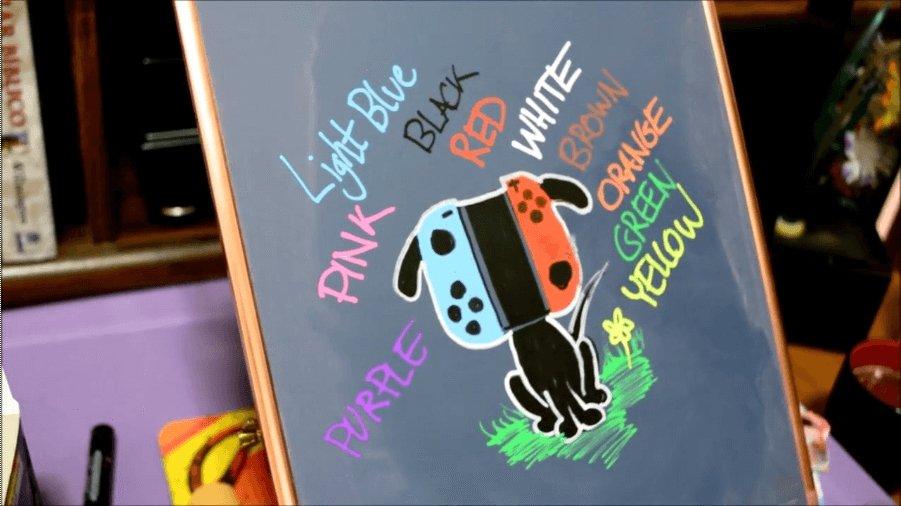 Herbie loved the Platinum series Chalkola chalk markers so now he's going to try the regular sized and metallic markers.  He liked the big, bold lines of the larger markers but soon finds out that the regular markers are just as fun in a different way.
Supplies Required:
All you need is a:
Chalkola chalk markers
Chalkboard
Herbie tried all the colors in the package on this drawing of a puppy.
He uses the same chalkboard as before.  It was so easy to wipe off the chalk markers!
The package contains 10 regular chalk marker and 6 metallic ones.
Right away, Herbie likes the way the bullet tip glides over the board.
He starts with a design in blue marker.
Black fills in the holes and adds some detail.  Herbie remarks how vivid the colors are.
Now he switches to the red chalk marker to make the opposite side.
It's a puppy!  It was hard to tell as he was drawing it but Herbie has used all the colors of the regular sized Chalkola chalk markers to make this cute character.
Included in the set of 16 markers are 6 metallic markers.
Herbie uses the metallic markers to accent his creation than adds the finishing touches.
Herbie has enjoyed using all the Chalkola chalk markers and really likes how easy it is to clean up.