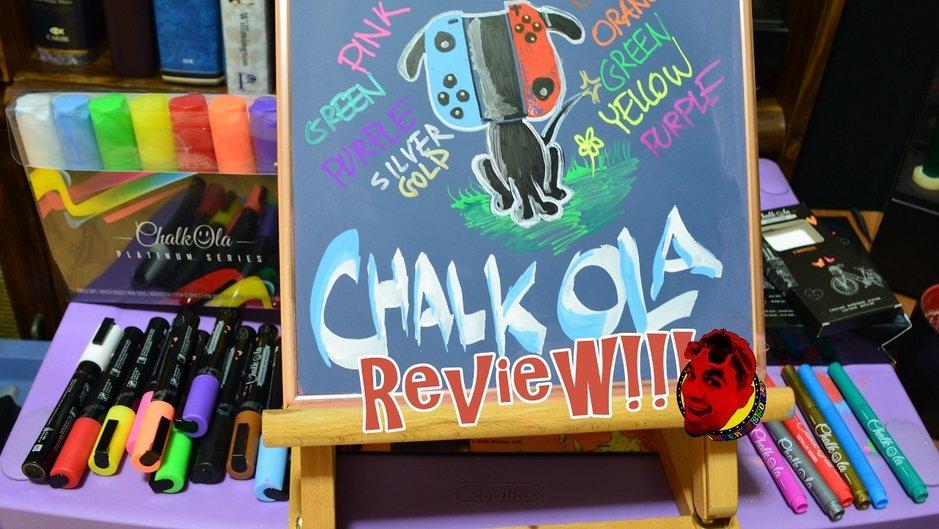 Herbie loves to try new things and especially enjoyed demonstrating Chalkola Chalk markers.  He uses his YouTube channel, In Herbie's World, to unbox new products and review them.
Supplies Required:
All you need is a:
Chalkola chalk markers
Chalkboard
Damp cloth
Tissue
Windex cleaner or any window cleaner
Herbie likes the packaging because it gives him all the important facts about Chalkola chalk markers before he opens the box.
He starts with the Platinum series and uncaps the red marker.  He likes the 3 in 1 nib that lets him control the width of his lines.
Herbie demonstrates how to shake the marker to mix the ink then press down repeatedly until the ink is drawn down into the nib.
He has a nice clean chalkboard ready to be drawn upon.  Chalkola markers can be used on glass, whiteboards and other non porous surfaces.
He starts with the Platinum series white chalk marker.  He's impressed with the bold line and how vivid the color is.
Herbie also likes the 3 in 1 nib that lets him vary his line width without having to stop and use a different sized marker.
He remarks how brilliant the colors are.
The colors are running because he's pressed down too hard on the marker, drawing down more ink than the nib can absorb.  He likes the look of it, though.
Now that the board is full it's time to see how easy it is to clean the chalk markers off the surface.  Herbie decides to use Windex.
He sprays the board with the Windex so he can wipe the colors off.
Although a damp cloth is recommended for cleaning Chalkola chalk markers off a surface, Herbie uses a tissue.
The tissue is not quite up to the!  It's done a great job of smearing the colors around.
The board cleans up nicely and is ready to be used again. Herbie had a great time using Chalkola chalk markers and loved the vibrant colors.  He especially liked how easy it was to clean up.  
Also read – 
Chalkola Chalk Markers Meet Marilyn and Elvis