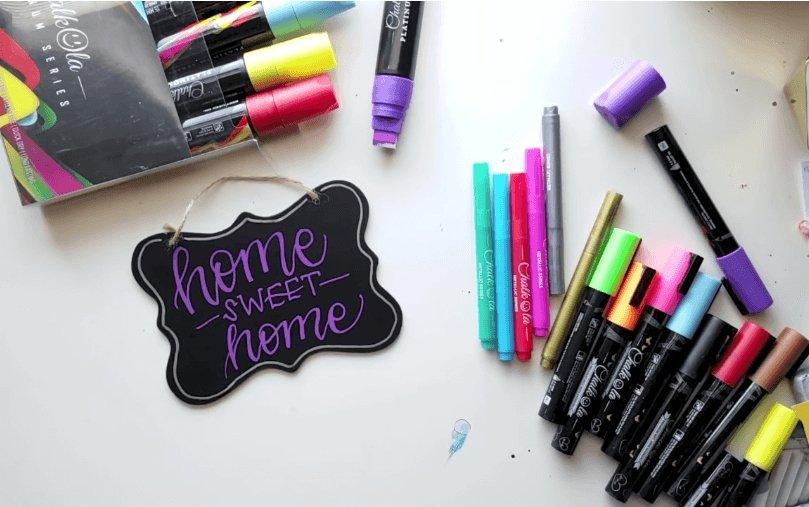 A master at planning, our friend Jessica made an excellent candidate to try Chalkola Chalk Markers. She likes making videos of calligraphy and lettering, as well as sharing advice on how to plan for the best at an event or in life. Organization is important to Jessica, and Chalkola Chalk Markers provided her with more tools and options to accomplish her goals.
Materials used:

Of course she reads the package first. Chalkola markers are child-safe, non-toxic, practically odorless, and wash away easily from clothing or hands.
She lays out her markers to see what choices she has. So many colors for the lettering she's going to do on the chalkboard sign.
She starts with the purple, writing the word "home."
It looks as if she's finished but she still has some details to add.
Chalkola Chalk Markers do not have the brush tips they would need to do actual calligraphy but Jessica can imitate the lettering style by adding downstrokes. She loves the vibrant colors of the markers.
Another characteristic that Jessica likes about Chalkola Chalk Markers is how easy it is to clean up or fix a mistake. With just a few swipes of a damp cloth, the surface is cleaned. Correcting a mistake is very easy with a damp cotton swab.
Jessica finishes the sign by adding a border drawn in metallic silver. She's very pleased with how her project turned out!
Also read: Fabulous Flowers, Chalkola Style!