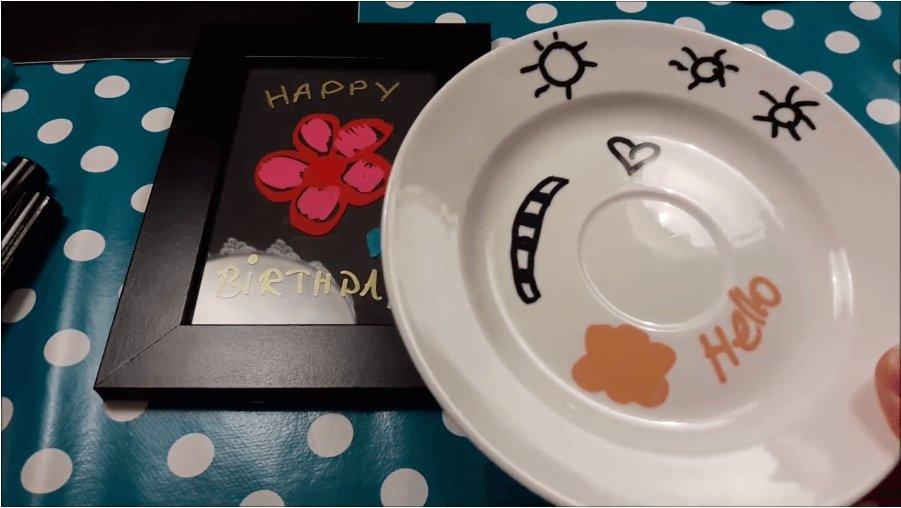 Doreen is an artist who lives in Germany and likes paper crafting among other things.  She is very creative and is always trying new materials and techniques.  She tried Chalkola chalk markers for the first time and really enjoyed them.
Supplies Required:
All you need is a:
Chalkola chalk markers
Picture frame
Saucer plate
Piece of paper
Doreen used the Chalkola markers on a variety of non porous surfaces.  She loves the brilliant colors!
Most people who read Chalkola's package information are astounded at how different these markers are from similar products.  They are child safe, non toxic, practically odorless, and wash off easily from non porous surfaces as well as clothing and hands.  Being a mother herself, Doreen is very pleased that these beautiful markers are safe to have in her home and studio.
She starts with a picture frame since the glass is smooth and non porous.  This black frame with a dark background will complement the markers' vivid colors.
Doreen chooses a red jumbo marker from the Platinum series.
Following the quick start instructions she shakes the marker to mix the ink and depresses the nib several times on a piece of paper she's chosen for this purpose.
You can see the ink descending into the nib after she depresses it against the paper a few times after shaking it.
Beginning to draw on the glass frame, Doreen is pleased with the way the Chalkola marker moves effortlessly across the surface.
She has made a flower that really stands out against the dark background.  She ponders the possibilities, looking over all the brilliant colors she can use.
She decides to color the petals of the flower pink using the Platinum pink marker.
The gold metallic pen will is perfect for writing a greeting.
A few embellishments of the petals and a heart finish the Happy Birthday greeting.  Doreen can change it just wiping it with a damp cloth.  Then she can write another message to represent whichever occasion she's celebrating.
She tries the markers on a saucer next, choosing a black regular sized marker.
Chalkola chalk markers move just as smoothly on dinnerware as they do glass.  Doreen is enjoying doodling on the saucer.
The peach colored marker is used to make a flower and a greeting.  Or is that a cloud?
You can tell by the attractive tablecloth that Doreen loves color!  Chalkola did not disappoint her with all the vibrant, vivid colors they gave her to choose from.  She will definitely be using Chalkola chalk markers on a regular basis!  
Also read – Beautiful Signage With Chalkola Chalk Markers