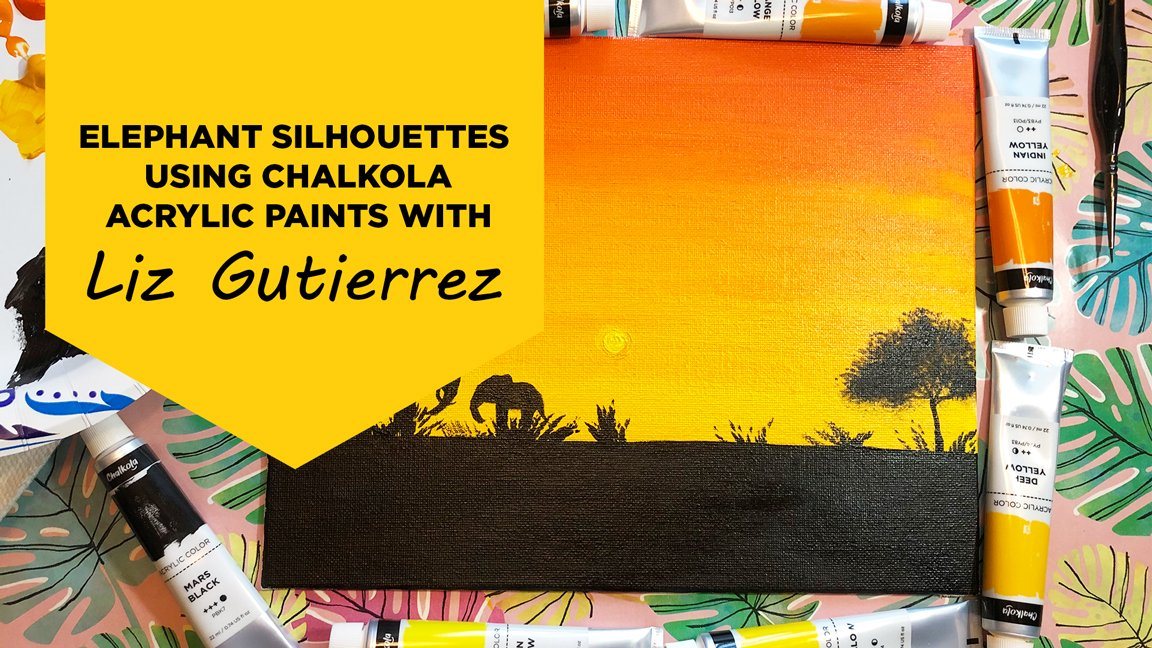 Chalkola's Featured Artist | Elizabeth Gutierrez
We invited LA-based artist Elizabeth "Liz" Gutierrez to be our guest blogger this month, so she can show us how she paints elephant silhouettes and an African safari sunset–two of her favorite subjects. Enjoy the helpful tutorial post she wrote for us below, along with the video she created as she shares her thought process and step-by-step painting guide!

Traveling nowadays is complicated, and for many of us, traveling to Africa and seeing a real safari sunset can only be a dream. Using our imagination, let's paint that dream! Once we're done, you can place this painting anywhere in your home or give it to a friend.
One of my favorite scenes to paint are sunsets and my favorite safari animals are elephants–you'll find that a bunch of my art has them! I especially love baby and mommy elephants. So in this quick tutorial, I'll show you a simple way to paint an African safari sunset with a mommy and baby elephant silhouette.

For this painting, you'll need: 

A regular pencil and a white charcoal pencil or white chalk (if you don't have it, you may just use the regular pencil)

Chalkola Acrylic Paints (in Mars Black, Orange Red, Orange Yellow, Indian Yellow, Deep Yellow, Mid Yellow, and Lemon Yellow)

Paint brushes (detail brush, small round brush, medium flat brush, and small fan brush)

Palette (or you can use a paper plate)

Paper towels/or small towel to dry excess water off brushes

Water in a container to rinse your brushes 
Ready to go on an art safari? Come join me and watch the video I made below!

 
Steps:

Place your canvas horizontally. With your pencil, draw a line across, about three quarters down your canvas. It doesn't have to be perfect, it's just a mark to know where to stop painting.


Start by putting paint colors on your palette or paper plate, leaving black for last (Orange Red, Orange Yellow, Indian Yellow, Deep Yellow, Mid Yellow, and Lemon Yellow).


Moisten your medium flat brush and dry off excess water with a paper towel.
Grab your Orange Red color and paint on the very top, across it, in a striped sort of manner. Don't rinse your brush, but you may if you wish. Just make sure you dry off excess water before grabbing more paint. Then, use Orange Yellow and repeat the step, overlapping a bit on the previous color. Once done, grab Indian Yellow and repeat the step; followed by Deep Yellow and Mid Yellow.
You should have reached your line. Stop there and leave the space below blank for now.
Add more paint on your palette if needed and repeat the painting steps a second time to add another layer of color and make it more vibrant. Then let that part dry. While it dries, get your Mars Black and paint on your blank space. Turn your canvas upside down to let that black dry. Now, on your dry oranges and yellow 'stripes,' grab some Lemon Yellow with your detail brush and paint an extra small circle in the middle of your orange and yellow skies, and fill it in with the Lemon Yellow color.
Rinse your brush, dry off the excess water, and grab Orange Yellow to paint a thin line around the circle you made. Repeat this process using Mid Yellow to paint a thin line around the last one. That will be your distant sun setting in the skies. Turn your canvas upside down again.
With your detail brush, pick up some black and paint a tree trunk on the right end of the canvas, starting at the black horizontal line going up–you may also add some branches. Keep in mind that trees aren't a straight line, so you can draw their shapes as you please.
Rinse your brush and grab your medium round brush. Dab a little bit of black paint and tap into the canvas to paint some 'leaves' on those branches–you may shape it as you wish. Once done, let it dry and get your white pencil or chalk. Outline the shape of your mommy and baby elephants. Then grab some more black paint with your detail brush and paint the outline. Then, use any other brush to fill in and you're done!


 
If you wish, you may add details like grass with a fan brush as shown in the video. I hope you enjoyed doing this! Follow my art on Instagram and subscribe to my YouTube channel for more tutorials! Thanks for watching!

Meet Chalkola's Featured Artist:
Elizabeth "Liz" Gutierrez is an LA-born and based artist, and a stay-at-home mom of two who considers creating art as her go-to form of relaxation, self-expression, and therapy for anxiety. Inspired by nature, she loves to paint sunsets, starry nights, flowers, elephants, and many other things she sees during her outdoor excursions. 
Liz loves using acrylics and oils for her artworks, but acrylics are always her first choice because she can paint many layers and finish a piece faster. When she first tried Chalkola Acrylics, she instantly fell in love. "The variety of colors helps me get extra creative and put on the canvas what I picture in my mind. The texture of the paints is perfect to paint in layers like I do," she shares.
To achieve realism in her pieces, she uses all kinds of brushes for detailing. But every once in a while, she enjoys doing abstract or impressionistic paintings using palette knives, sponges, and even paper towels to create a unique effect on her backgrounds.
Some of her followers on social media who have purchased her art have expressed that they feel a very personal connection to her artworks, and this inspires Liz to keep creating and connecting with people through art.


Check out more of her artworks here:
Instagram: @pollito.art.s
YouTube: Pollito Arts by Liz 
Website: pollitoarts.xyz