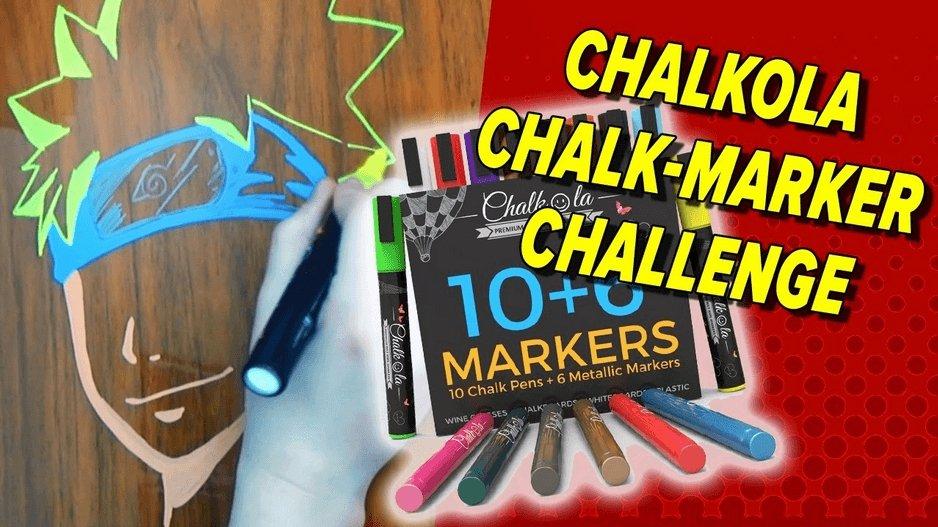 Our friend, Hungarian artist Andrea Otilia Vörös, is the creator of the comic and Saturday morning serial Saigami. Her art is as important to her as breathing so her tools are crucial. That's why she was so excited to try Chalkola Chalk Markers, and we're thrilled to find out how she enjoyed using them for the first time!
Materials used:
Andrea was challenged by Chalkola Chalk Markers because they're different from the tools she usually uses to create her comics.
She's pleasantly surprised by all the colors and sizes offered, and she was impressed by the fact that the markers are
non-toxic, child-safe, odorless, long-lasting, and easy to clean.
Just having moved into a new apartment, Andrea thought it was a fantastic idea to create on the plexiglass covering her shelves. She tested a marker on an inconspicuous spot first, and was pleased that it wiped off easily and completely.
This is actually an ideal surface for Chalkola Chalk Markers, smooth and
non-porous.
Andrea began to draw the outline of Naruto, a character that inspired her as a young artist.
She's not used to working on a vertical surface so it was a bit tricky for her to draw. Nonetheless, she liked the way the markers moved smoothly over the surface.
Andrea shared that she usually does a sketch then works over it but she doesn't have that luxury here, as pencil will not show up on plexiglass. As seen on the photo, she drew Naruto from memory and did a very good job of it.
Having never used chalk markers before, she was new to shading and shadowing with them. She occasionally smudged her work but mentioned that she also has that problem in her regular work because she's impatient. The chalk markers can be wiped away anyway so it's easy to fix a smudge or smear.
She drew in some details with the black chalk marker.
And outlined certain areas to make the features more prominent.
She filled in some details below the neck to complete the figure.
A little color on the outline of the body made it look complete. Notice how she used both thin and bold lines to give Naruto's hair an almost 3D effect.
Despite it being her first time to use chalk markers on a vertical surface and without an outline, Andrea has created a remarkable portrait of her beloved comic figure. She also found it impressive that the markers can be cleaned off easily. For calligraphy, she preferred the Platinum Series Jumbo Markers because of their vibrant colors and easy-to-use nibs. Andrea highly recommends Chalkola Chalk Markers, saying that projects and creativity with these markers are limited only by one's imagination. 
Also read: 
Chalkola Chalk Markers Meet The Trolls!