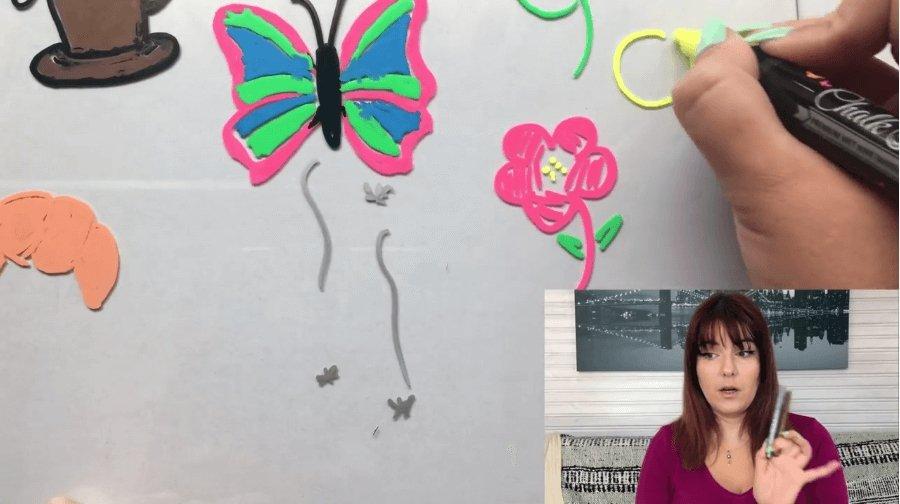 Sophia is an author, illustrator, and artist who lives in Greece.  She posts how-to videos on inking and how to color Manga (Japanese comic art) with a variety of tools.  She had seen Chalkola chalk markers and wanted to try them so we gave her a set.  You can see how much she enjoyed working with Chalkola chalk markers!
Supplies Required:
All you need is a:
Chalkola chalk markers
Piece of paper
Since Sophia likes to create and color Manga characters, color is important to her.  When she sees the vibrant colors of Chalkola chalk markers she is very pleased.
Reading the information on the box, Sophia is pleased to find that Chalkola chalk markers are child safe, non toxic, low odor, water based, and easily wash out of clothing.
Starting with the Platinum jumbo markers, she explores all the vivid colors of Chalkola chalk markers.  Preparing the markers is a simple matter of shaking them to mix the ink then depressing the tip several times to draw the ink down from the barrel to the nib.
Sophia likes the variety of colors and how brilliant they are.  She is trying them out on paper, something not recommended in the instructions.  These chalk markers are best used on non porous surfaces such as glass, plastics, metal, white boards, tiles, and other surfaces that don't absorb liquids.
The metallic markers are beautiful!  The pens need no preparation but are ready to go straight out of the box.  They don't gleam as much as she expected on the paper but she can see that they have a beautiful metallic sheen.  She likes the gold and silver best.
With a fresh piece of paper Sophie starts to draw in earnest.  She wants to see what the markers can do in regards to layering and adding details after the ink dries.
Using a regular sized black marker, she outlines a cup.  The black is very impressive, a deep color that is bright and defining.
After drawing the cup she colors in the contents with the brown marker, a color that looks almost velvety.
Sophia uses the metallic gold marker to make accent the foam on the cup of coffee.
She is drawing something to go with the coffee.  Do you wonder what it will be?
A croissant has been added to the picture and now she chooses pink for another item.
It's a butterfly!  Sophia learns that it is easy to apply different colors by letting them dry then filling in with another color.  Adding a detail in a different color causes no problems with running or blending if the first color dries.
It's easy to use different colors side by side.  Chalkola chalk markers are very versatile.
You can see the nice, clean lines made by the markers.  They don't leak or leave blobs but go on smoothly and effortlessly.
Sophia loves all the brilliant colors!
Sophia loves using Chalkola chalk markers!  
Also read –
Saigami's Creator Gets Creative With Chalkola Chalk Markers