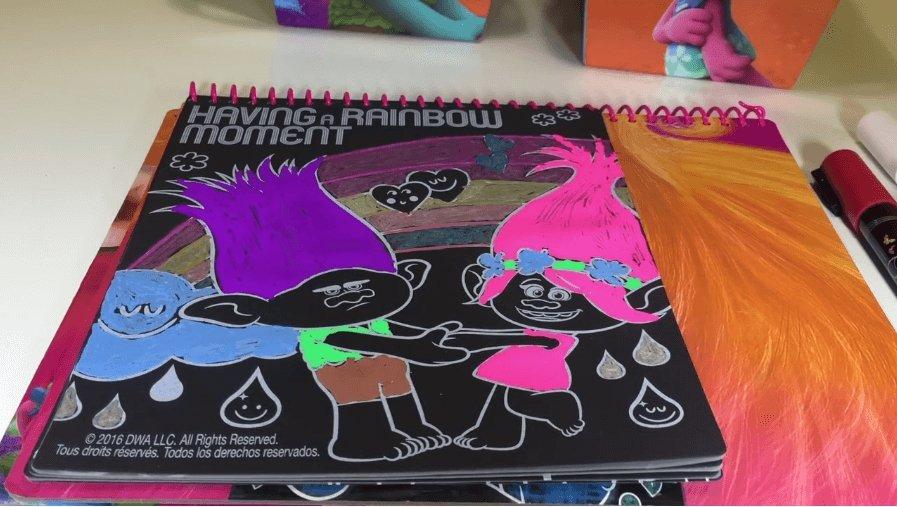 Little Wishes unboxes games and toys to give honest reviews for parents and kids who might be interested in them.  The YouTube channel was inspired by a 5 year old that is simply called Little Wish to protect his/her identity.  Therefore, in this review of Chalkola chalk markers we'll call our reviewer Anne.
Supplies Required:
All you need is a:
Chalkola chalk markers
Troll coloring page
Anne uses a Trolls Chalkboard Coloring Book to demonstrate Chalkola chalk markers.
She is pretty excited when she opens the box of 10 premium wet wipe chalk markers and 6 metallic markers.  There are lots of bright, beautiful colors!
Anne decides to start with Poppy's pink hair.  Here you can see what the chalk marker looks like before it is primed with ink.
Once she shakes the chalk marker and pumps the tip a few times, she has all the ink she needs for smooth application.
Trolls are meant to be colorful so Chalkola chalk markers are the perfect medium with which to color them!
The bullet tips of the regular sized chalk markers can handle small details.  Anne, like many others, missed the part of the instructions that tell her that the pens have reversible tips.  She could use the chisel pointed nibs on some of these finer spaces.
Anne starts on Branch now.  She likes the vivid colors, especially the purple.
The brown is just as great as the other colors.  The ink is so rich it looks rather velvety on the chalk board surface.
Anne has been looking forward to trying the metallic markers.  She can use them straight from the box; they need no preparation like the other chalk markers.  Like all Chalkola chalk marker products, these metallic markers are child safe and non toxic.
Since rainbows are rare and special, Anne uses the metallic markers to add rainbow colors.
It doesn't show up well on camera but the metallic markers add a beautiful gleam and sparkle to the troll coloring page.
Anne finishes the chalk board coloring page and proudly holds it up to the camera.  Her opinion is pretty clear; Chalkola chalk markers are awesome, cool, beautiful, and so much fun!  
Also read –
Creative Graffiti With Chalkola Chalk Markers