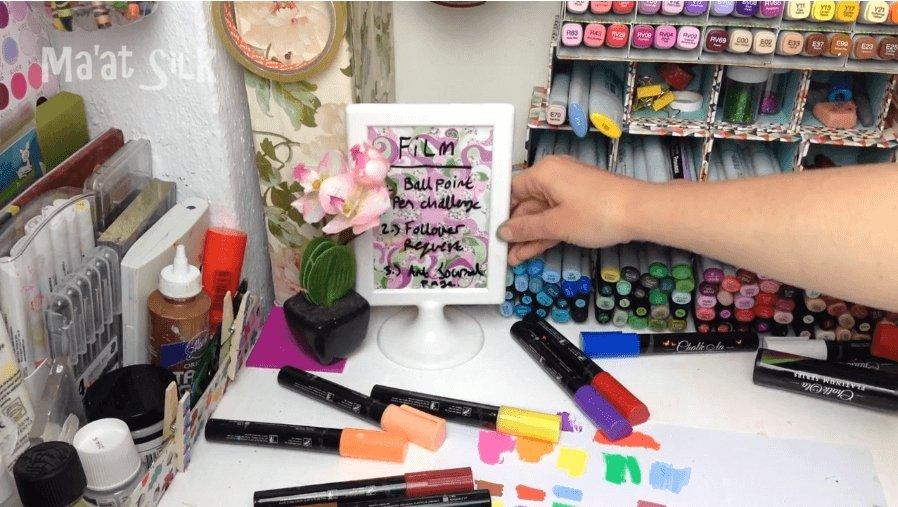 Maisie has had so many ideas as she tried Chalkola chalk markers for the first time.  Colors are very important to Maisie in her line of work and she loves the vibrant, bright colors of Chalkola chalk markers.
Supplies Required:
All you need is a:
Chalkola chalk markers
Photo frame
Maisie remembers a photo frame that she has in her studio and thinks it will make a good reminder tool.
She has chosen an attractive background for her reminder.  It is interesting enough to draw her attention but not so overwhelming as to hide the message she needs to see.
She has cut the background to fit the frame.  It certainly is something that will draw attention!
Maisie has some films that she wants to make and others she needs to edit so she writes those down on the glass of the frame.
Now she will know exactly what she has to do every time she sits down at her work table.
The finished reminder is attractive, doesn't take up much space, and is erasable because Maisie used Chalkola chalk markers.  As she does a task she can merely wipe it off.  She thinks this will also make a wonderful display of favorite quotes that she can change whenever she wishes. Maisie has had such fun testing Chalkola chalk markers!  In fact, she was so impressed that she intends to keep the set handy and use Chalkola chalk markers on a regular basis.
Also read –
Chalkola's Unique 3 in 1 Nib