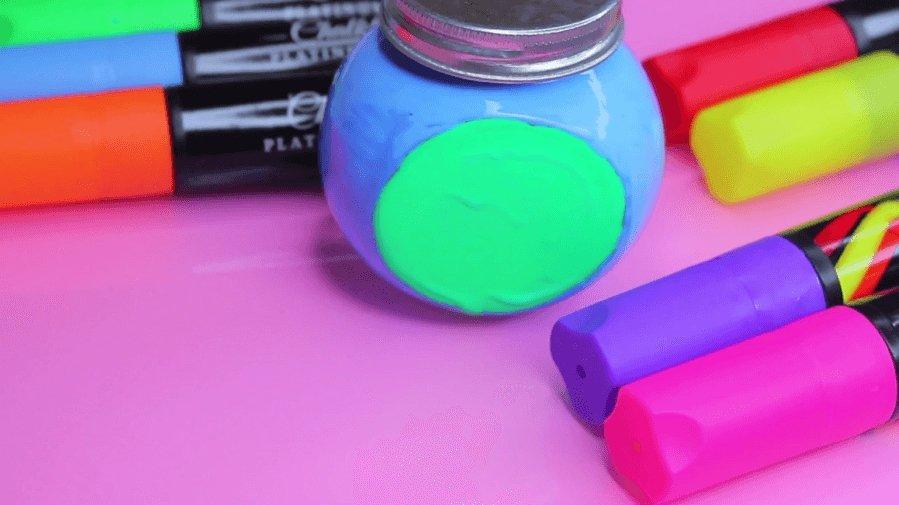 People are always amazed when they see what Chalkola Platinum Series chalk markers can do.  Artists and crafters love the 3 in 1 nib that allows you to draw fine lines and fill in details as well as the medium and bold lines they can make.  You can do all of this with one marker!
Supplies Required:
All you need is a:
jar or small glass container
Chalkola Platinum Series markers
damp cloth
Step 1
You always get good coverage with Chalkola chalk markers.  The jumbo window markers with the 3 in 1 nib insure that you'll get into all the tight spaces that other markers miss.
Step 2
Chalkola Platinum Series markers are jumbo sized to last and to provide an easy, comfortable grip.
Step 3
Chalkola markers are especially suited to working on glass.  They won't scratch the surface and the colors flow on easily.
Step 4
Our tester chose the green jumbo Chalkola marker to start coloring the glass jar.
Step 5
The broad side of the 3 in 1 nib does a great job of covering the surface.
Step 6
The rest of the jar will be blue.
Step 7
See how the jumbo Chalkola marker covered every bit of the glass.  There were some areas that needed the fine side of the nib although the broad side worked well for most of the surface.  The fine nib did a great job on the circular part of the jar.
Step 8
Removing Chalkola Premium Wet Wipe markers is as easy as dampening a cloth.
Step 9
All you need to do is wipe away the chalk marker from the surface.
Step 10
As you can see, the color easily wipes off and leaves no residue.
Step 11
With their brilliant colors and 3 in 1 nibs, Chalkola Premium Wet Wipe Markers will color any surface.  You'll be able to cover broad areas as well as fill in fine details.
Also read – 
Using Chalkola Markers and Special Effects