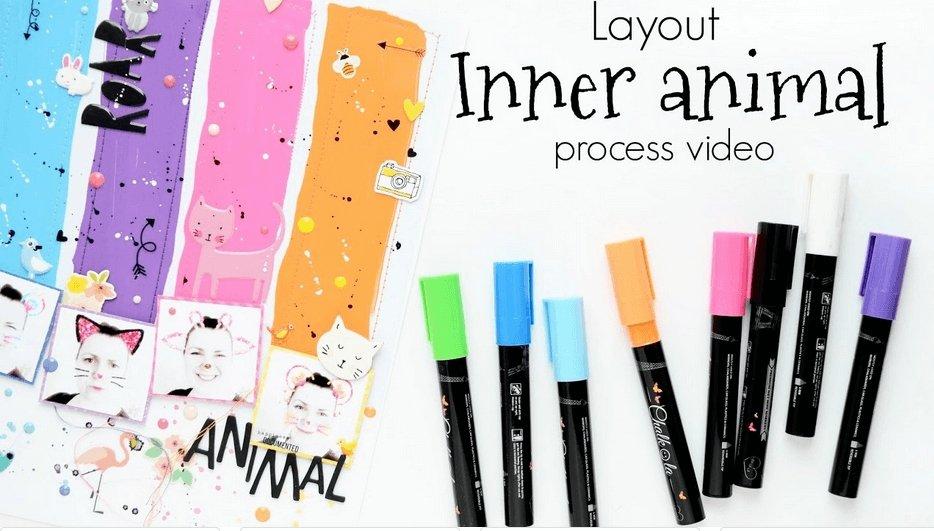 Anna Komenda, a wife and mother of 3 children, lives in Poland and enjoys scrap books among other things.  She was delighted to have an opportunity to try Chalkola Chalk Markers.
Supplies Required:
All you need is a:
Chalkola chalk markers
5 photos from your app shots
Sheet of white paper
Plastic cover
Heidi Swapp color shine
Glue
Scissor
Small brush
Scrapbooking stickers
Anna is going to show how she makes a colorful, fun layout using Chalkola chalk markers and other materials.
She has a set of five photos she got from an app, depicting one person with five different expressions and five different animal attributes.
She already has a sheet of white paper so all she needs is a plastic cover, the type that holds documents.
Anna positions the photos on the paper to make sure she knows where everything is going to go.
Chalkola chalk markers are going to make the background of her composition.
Anna uses purple, pink, orange, blue, and green Chalkola markers to make strips of color above each individual photo.
Now she has her plastic overlay just as she wants it.
She attaches the plastic to the white sheet of paper.
Now that she has a stripe for each photo she can position the photo strip and continue her creation.
She cuts each photo carefully from the array.
Anna chooses colored paper with which to back each photo.
The photos will be backed by a similar color to the stripe above them.  This will contribute to the continuity of color and make the layout appear more professional.
Many people have a favorite theme and Anna's is animals.  Just like animals in the wild, Chalkola has vivid colors that attract attention.
It's important to Anna to position the photos just right so that what she adds later will have the most impact.
If you look closely, you'll see that Anna has chosen textured paper to back the photos with.  It adds another dimension to her layout and makes it more interesting.
Sometimes matching colors will make more of an impact that choosing a contrasting one.
Chalkola's bright, vibrant colors make any type of layout special.
Anna glues the individual photos to their backing.
One of the great things about Chalkola chalk markers is that you can work with them all day.  Other markers have unpleasant odors but Chalkola chalk markers are virtually odor free.
These are bottles of Heidi Swapp color shine that Anna will use to add some color to the white part of her layout.
She uses a small brush to dip into the paint and splash it onto the white paper.  It is the small touches like these splatters that will bring the whole creation to life.
Anna has an impressive supply of stickers that include shapes, letters, animals, and other categories.  She uses stickers to illustrate her ideas and inspire emotion in those that enjoy her art and scrapbooking.
The title of the layout, "Inner Animal" will start on the left side and finish on the right.  The letters are carefully positioned to be visible but allow plenty of room for other embellishments.
Several types of stickers are used to convey a feeling of fun and playfulness.
When Anna is done with her layout it is very busy yet focused on a central idea.  It entertains the viewer but sticks closely to the central theme and keeps the focus on the photographs. Although Anna did not use a lot of Chalkola colors in her layout, the chalk markers' brilliant shades attract attention while keeping the focus on the photos.  Chalkola chalk markers can be used in so many different ways!