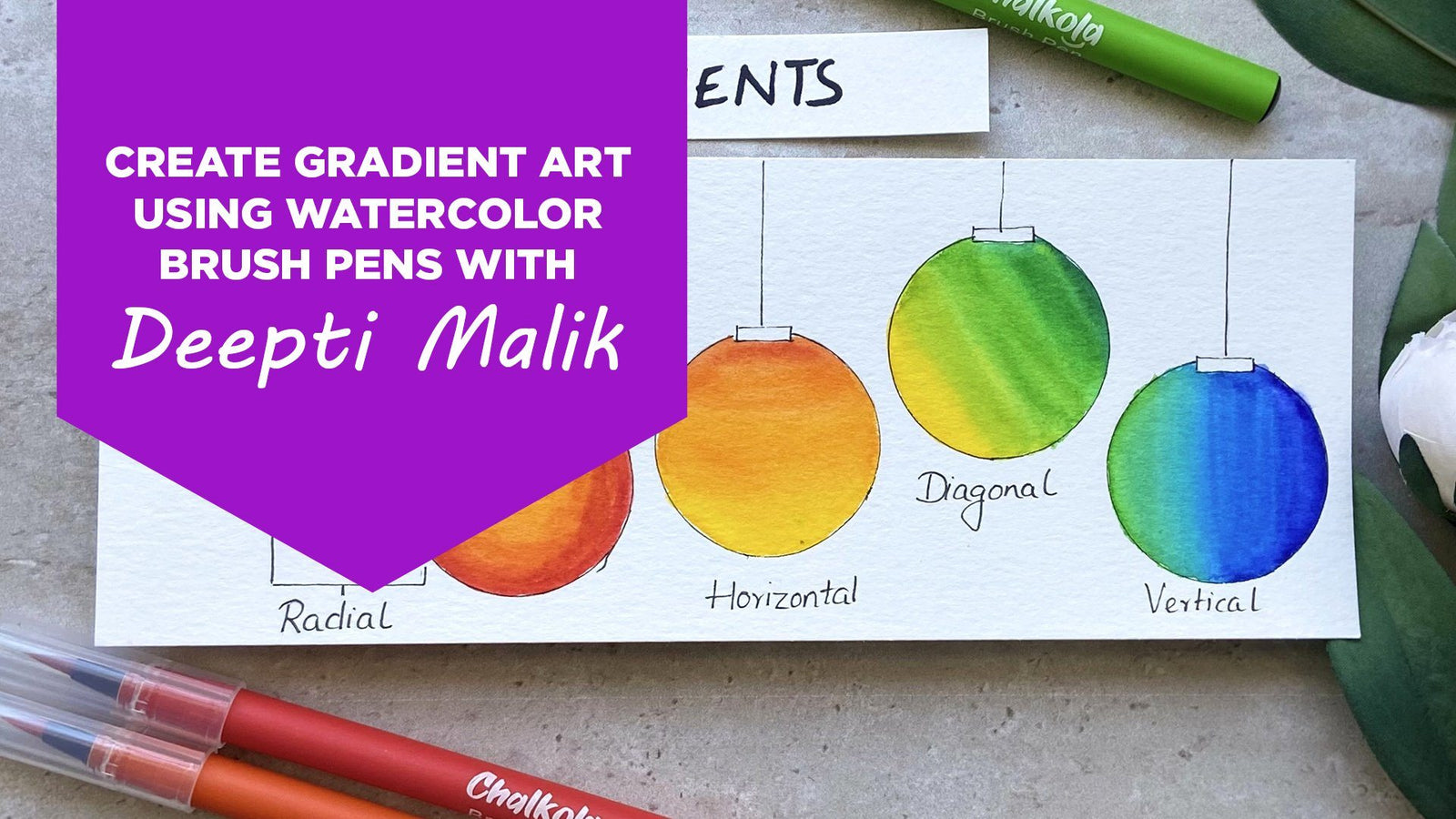 Chalkola's Featured Artist | Deepti Malik
We had a wonderful chat with Deepti Malik, a self-taught artist who finds inspiration in everything that surrounds her–nature, colors, patterns, layouts...and even grocery stores! We're thrilled to share the tutorial she created for us, as well as the story on her journey from being a hobbyist to a full-time artist.
Enjoy getting to know our featured artist, Deepti, through her wonderful post below!
Today I'm here to share something very simple called "gradient," but if you incorporate this into your art you can easily make some masterpieces. 
If you look at the definition of gradient in a dictionary, this is what it says…"an increase or decrease in the magnitude of a property (e.g. temperature, pressure, or concentration) observed in passing from one point or moment to another." So how does it relate to art? Gradient in art is a visual technique of gradually transitioning from one color hue to another, or from one shade to another, or one texture to another. Space, distance, atmosphere, volume, and curved or rounded forms are some of the visual effects created with gradient.
I think creating gradient using Chalkola Watercolor Brush Pens is easy. This set comes with many hues of the same color which allows for an easy transition. 
Materials used:

Since it's the holiday season, I decided to work with ornaments. I used a lid from a bottle to make my circles.
Check out the various ways to create gradient in the video below. The key is to pick the right colors to transition. You can always refer to a color wheel or even look for color palettes available online to get ideas.
I created a few watercolor Christmas cards with hand drawn ornaments using the same gradient techniques and also made a few gift tags.
On my gift tags, I created simple landscapes. The ways you can use gradient in your projects are unlimited. 
Hope you enjoyed my projects and would give these a try–not just for the holidays but in any occasion or art project!
Get to know Deepti Malik
Hello, friends! I'm so excited to be here with Chalkola. My name is Deepti Malik and I'm from India. After my stint in the real world of work, I decided to pursue my everlasting, never ending interest in art. Partly because I got married, was freer after moving to the US, and mostly because I was exposed to a lot of artsy things here. I'm a self-taught artist who's still learning and experimenting with art. You can find the latest from me through my Instagram and blog site.
I find inspiration all around me, even in the toys of my 4-year-old. Something that started out as a hobby has taken me to the next level of admiration and appreciation...so much so that I'm now illustrating for two US-based paper crafting companies, STAMPlorations, with my own stamp line Dee's Artsy Impressions, and for Crafty Meraki. I also got the honor to teach an online class on Craftsy – Watercolor Cards Made Simple. I would say, not bad! If I can do it, everyone can.
I've worked with all the mediums from sketching to painting, but my happy place is handmade cards–they're like tiny pieces of artwork that I can share with my loved ones. Also, with a toddler at home full time (because of COVID), I only have enough time to accomplish my little pieces of art. I'm inspired by all things around me, from nature to a grocery store, you'll find inspiration everywhere. I also look for inspiration in things that catch your attention–colors, patterns, layout...and then I try to recreate them on my cards.
Chalkola products are amazing. I've worked with both Acrylic Paint Markers and Watercolor Brush Pens and I'd say they're fabulous in their own ways. Acrylic Markers allow us to work on different surfaces and I love that they come with two unique tips. Watercolor Brush Pens are amazing because of the ease with which we can add a variety of colors into our design. The intensity of colors is awesome, too. You can even mix colors using these brush pens to make a completely different hue. Now I have to get my hands on the famous Chalk Markers!
I hope I was able to inspire you. Thank you so much for having me!

Find more of Deepti's amazing creations here:
Instagram: @deesartutopia   
Blog: Dee's Art Utopia