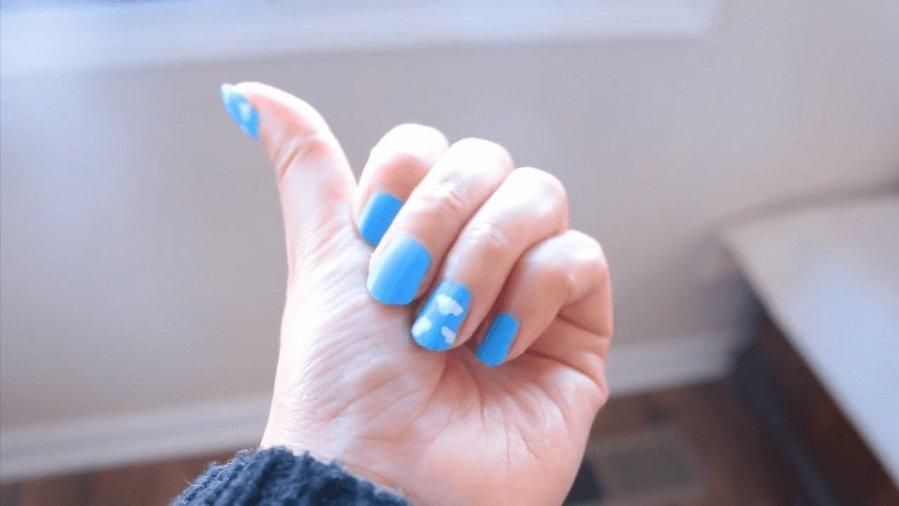 Did you know that Chalkola chalk markers look great on your fingernails?  Top off your manicure by pampering yourself with nail "polish" that's sure to elicit compliments!
Supplies Required:
All you need is a:
2 colors of chalkola chalk markers
Fingernails clear topcoat
Step 1
Using a sky-blue chalk marker, get the ink flowing and completely cover your fingernails.
Step 2
Let the ink dry completely on your fingernails.  This is a good time to take a few minutes for meditation or just daydreaming.
Step 3
Once the blue ink is dry you can use a white chalk marker to add a couple or a few rounded white shapes
Step 4
Now your fingernail looks as if you've reached up and pulled down a small part of the sky to wear at your fingertip!
Step 5
Once you're satisfied with your little piece of sky, apply a clear topcoat to protect the design.
Step 6
You can put clouds on all your fingernails or just one on each hand to make them stand out more.
Step 7
But why stop with there?  There are so many creative ways to make your nails attractive with chalk markers.  Use four or five colors to make horizontal or vertical stripes and turn your nails into pieces of the rainbow!
There are so many creative ways to decorate your nails!  Turn them into the night sky, brilliant jewels, geometric patterns, or any of hundreds of other illustrations.  You'll never be bored with your fingernails again when you have Chalkola chalk markers!