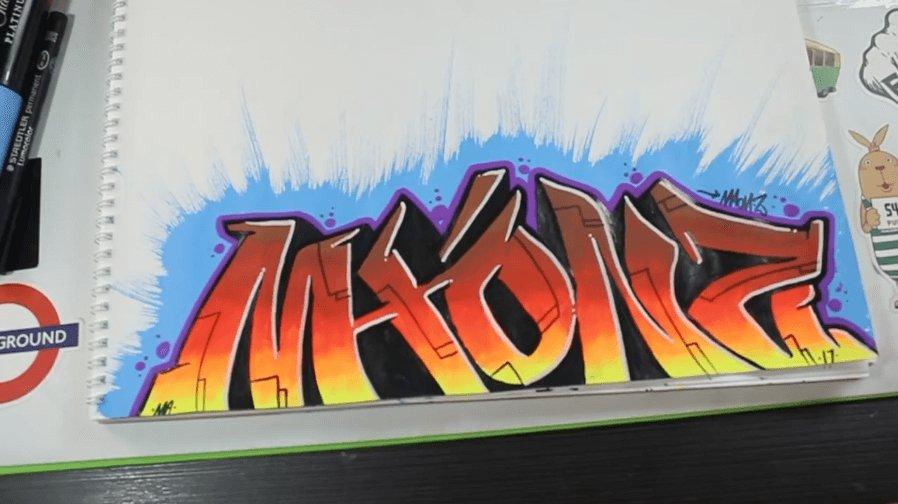 Maonz is an artist from Spain, likes customizing objects, graffiti, and painting.  Today Maonz is trying Chalkola chalk markers for the first time.
Supplies Required:
All you need is a:
Chalkola chalk markers
Paper
Pencil
Sketch book
Maonz's first love is graffiti and Chalkola chalk markers performed beautifully!
Maonz has chosen to test the Chalkola chalk markers on paper since that is where he designs most of his artwork before applying it permanently.
First he sketches his basic design in pencil.
He primes the Platinum series blue chalk marker by shaking it vigorously then depressing the pen against the paper until the ink is drawn down from the barrel to the nib.
Maonz is surprised at how easy it is to apply the chalk ink; it is more like paint the way it glides over the surface of the paper.
He takes out the orange Platinum chalk marker and gets it ready to work with.  Although the instructions say that the chalk markers are low odor, Maonz detects no odor at all.
Using blue, brown, peach, and orange, Maonz finds that he can blend the colors so that they appear to fade into each other, an effect he likes to use in his art.
He stops to look at his work and is pleased with the results.  The colors are so vivid!
Maonz has the basic artwork done and now it's time to accentuate and compliment the colors so that finished product immediately attracts attention.
Outlining and shading the letters gives the graffiti texture and substance.
Most people don't realize that Chalkola chalk markers can be blended and used for subtle shading.  Maonz likes this effort enough to sign his name to it.
Maonz was delighted with Chalkola chalk markers and surprised how easy they are to work with.  He particularly liked the brilliant colors that were just as bright when they dried as when they were wet.  Chalkola chalk markers are suitable for any project!  
Also read –
Making An Erasable Calendar With Chalkola Chalk Markers