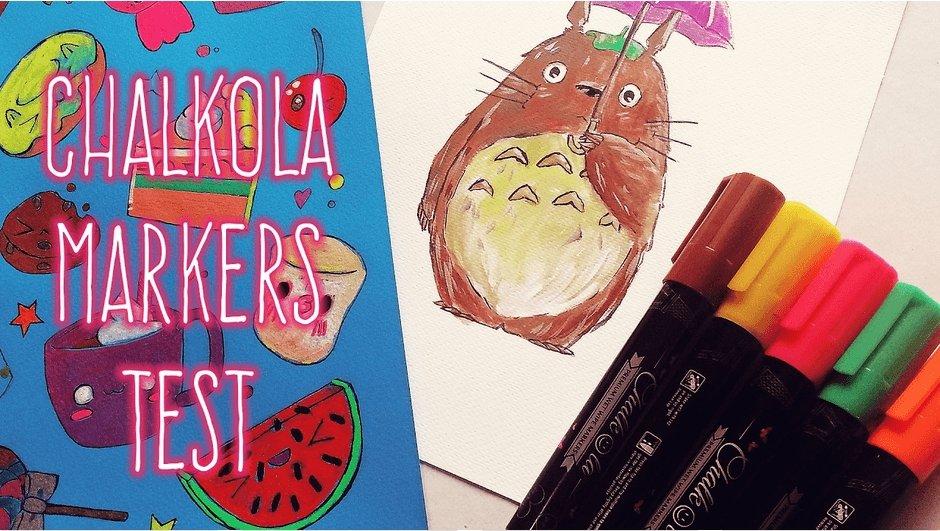 Francesca (of Frankekka Art) is a talented Italian artist who offers YouTube tutorials on drawing and coloring, and she also does reviews and amazing illustrations. In this article, she shares her fun experience in testing out her new Chalkola Chalk Markers. As a bonus, she also gives us a demonstration on how to paint with Chalkola Premium Wet Wipe Markers on a different type of surface. Let's check it out!
Materials used:
Francesca showed her viewers some interesting doodle techniques using Chalkola Chalk Markers.
She was thrilled to receive the 8 Platinum Series markers, as well as the 6 metallic markers and the 10 regular bullet nib premium wet wipe markers.
She likes the 15mm broad tip of the jumbo markers.
The bullet tips of the regular-sized markers are ideal for coloring.
Moreover, she likes that you can reverse the nib and use the chisel tip!
Next, she inspects the metallic markers that don't require any kind of preparation; she can use them straight out of the box.
The metallic markers have a bullet tip that is versatile and provides a smooth application.
She prepares the first marker by shaking it vigorously and pressing the tip up and down to draw the ink from the barrel into the nib.
Interesting fact: Glass is a perfect surface for Chalkola Chalk Markers.
Cleaning up the ink is so easy with just a few swipes of a damp cloth!
Francesca uses thick pastel paper to draw some doodles on, and a permanent marker to outline her work. Chalkola Chalk Markers can be used on any surface, but can only be easily and completely wiped off from
non-porous materials
.
She finds the Chalkola colors very opaque, providing great coverage. The colors even cover up the permanent marker.
All the colors that Francesca has used are bright and beautiful, especially on the blue background.
Next, Francesca starts to fill in the Totoro she has drawn. (A Totoro is a character from Japanese lore–a forest spirit that guards the oldest tree in a forest). She colors the Totoro with Chalkola Chalk Markers, then paints over the colors with a wet brush, providing layers and highlights to the artwork.
Using the brush to soften the lines and colors of the chalk markers, she applies the finishing touches on her Totoro. Blending the colors of the chalk markers with the paint brush produced a soft, beautiful effect that makes the creature lifelike.
Chalkola's vivid colors really complement any type of art on any kind of surface. Francesca enjoyed creating with her Chalkola Chalk Markers and loves how adaptable they are to different techniques. There are so many ways to create art with Chalkola Chalk Markers! 
Also read: 
Simple, Affordable Décor with Chalkola Chalk Markers