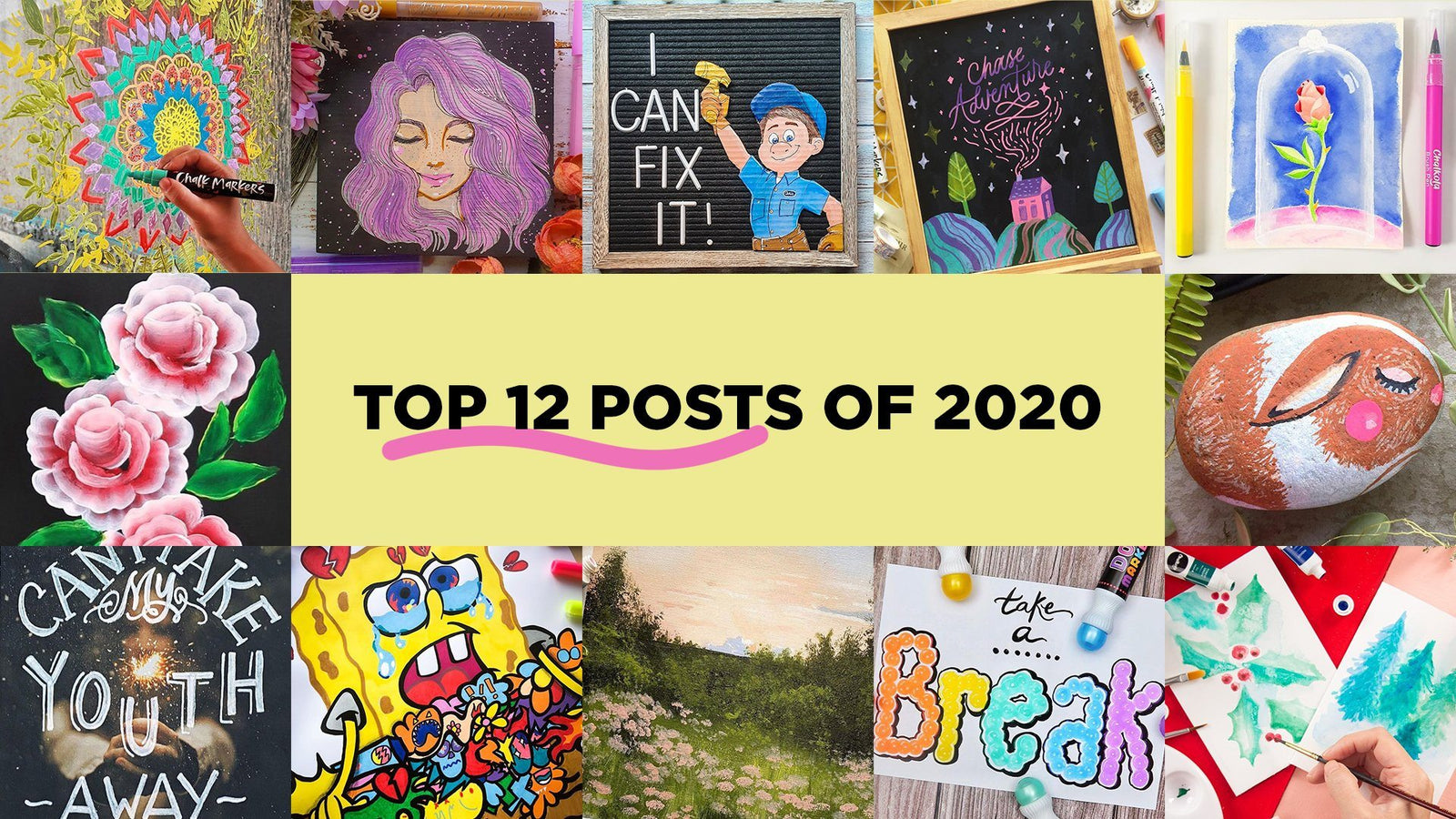 Before we move forward to 2021, let's look back on the best of the best and recap our most popular posts from 2020. We loved all the incredible artworks that were shared with us on Instagram this past year, and we're excited to see more of your vibrant masterpieces using your favorite Chalkola products in the coming days ahead. 
For now, let's enjoy this month-by-month round-up of amazing creations from our talented art enthusiasts!
January
Vibrant Art On A Window
One of the best surfaces to use chalk markers on is glass because it's non-porous, which means you can easily wipe off the liquid chalk ink with a damp cloth anytime you want. It won't leave any stain or residue, and you can keep creating art on that same spot whenever creativity strikes!

Created with: Liquid Chalk Markers

February
Stunner Of A Portrait
Acrylic paint markers are one of the most versatile art tools you can have at your disposal, whether you're a budding artist or a pro. Great to use on virtually any surface, these fine-tipped pens hold highly pigmented ink that flows smoothly once activated, so you can create detailed art whenever and wherever without any mess or hassle.
Created with: Acrylic Paint Markers
Chalkola's double-sided felt letter board is not your ordinary board. With its ideal 12" x 12" size, you can create a variety of eye-catching messages using the set's free pre-cut letters, symbols, and phrases that come in different styles, sizes, and colors (yellow and white). On top of that, it has two usable sides in black and gray so you're not limited to just one background color. 
Created with: Letter Board

April
Better Together With The Chalkboard + Chalk Markers
This duo is a popular pick among kids and kids-at-heart because of its versatility and convenience (not to mention, it's easy to clean and store). Whether for home, school, work, or play, you can draw, write, and even paint using this pair. Write a reminder, quote, menu, or recipe; create a colorful learning activity; or draw and doodle with the kids–anything is possible with Chalkola's chalk markers and chalkboard set.
Created with: Liquid Chalk Markers + Chalkboard
Easy to use, blend, and layer, watercolor brush pens are a multi-purpose art tool for creating beautiful and vivid masterpieces using just one product. Their flexible nylon bristles make painting a breeze, minus the streaks, bleeds, and smudges. What's more, the watercolor ink is lightfast, so you can expect your artworks to remain fresh and vibrant through the years.
Created with: Watercolor Brush Pens

June
This Art Rocks!
Jumbo markers mean massive fun! These extra large chalk pens aren't just easy to work with, they also deliver more uses with their 3-in-1 tip–ranging from wide, to bold, to fine. Made especially for non-porous surfaces, you can easily wipe off the ink with a wet cloth, and create again and again. Use these markers for window art, business signages, big letterings, DIY projects, and more.
Created with: Jumbo Chalk Markers
With its large selection of artist-quality colors, you'll be creating artworks upon artworks in no time with Chalkola's acrylic paint set, just like this almost two-dimensional rose masterpiece. Make your creations come alive by layering with the wide color variations–from classics, to pastels, neons, and metallics. 
Created with: Acrylic Paint

August
Sparkle And Shine Through Art
What's white, bright, and always writes right? Chalkola's white chalk markers are the perfect choice when you want your message or artwork to pop against a darker background. Aside from being the perfect art tool for calligraphy and signages, these pens are also great for labeling things around the house and office.
Created with: White Chalk Markers

September
Extra Colorful Fan Art
Yet again, we see acrylic markers creating ultra vivid artworks like this awesome Spongebob Squarepants fan art! What's so great about these pens is that you can use them on any surface and for different purposes–on rocks, canvas, paper, fabric, or wood for permanent art; and on glass, plastic, or ceramics for erasable art.
Created with: Acrylic Paint Markers

October
Fall In Love With Painting
With their thick and smooth consistency, you won't have any problem painting with these acrylics. You can blend and create your own shades by combining the highly pigmented colors, and paint masterpieces that will stand the test of time–no fading and cracking.
Created with: Acrylic Paint + Canvas Panel

November
Ready, Set, Dot!
Possibly the top choice for toddlers and bingo lovers, these shimmery dot markers are as fun as they are handy. They're non-toxic, washable, kid-friendly, and completely mess-free, so you're guaranteed to enjoy hours upon hours of dot marker art-ivities! The set comes with a free 50-page activity book so kids can learn their ABCs, 123s, word recognition, and more through dotting and dabbing.
Created with: Washable Dot Markers with Shimmer

December
Merry And Definitely Bright!
The most special holiday gifts are those that are handmade and personalized. What better way to send yours out and share your creativity with your loved ones than by creating your own greeting cards? Cue in Chalkola's artist-grade watercolor paints, which come in 36 stunning colors. They're non-toxic, safe for everyone to use, quick-drying, and won't fade over time.
Created with: Watercolor Paint