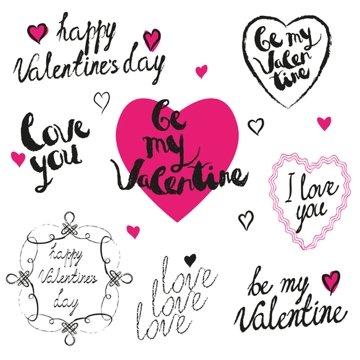 Valentine 's Day has gotten very predictable during the past century—buy flowers and candy, go on a date and make an evening of it. Many people propose marriage or take their vows on this day. School classrooms have parties, moms make special meals for their families and the next day everything is back to normal. Everyone knows what to expect and when things begin and end. But what if you could make your Valentine's Day special and unique, something that your loved ones would remember all through the year? Chalkola can help you make this holiday one that they'll never forget—and neither will you.
For the Love of Your Life
Why settle for the usual dozen roses when giving flowers? Look around any office on Valentine's Day and you'll see the same thing on many desks. Make your love's floral surprise unique with a beautiful keepsake ceramic or glass vase that declares your love for all the world to see! Chalkola's 8-pack of Window Chalk Markers is perfect for decorating a ceramic vase, especially since each one can make 3 different sized lines. Adorn the vase with a sweet sentiment or artwork from your heart. Fill the vase with chocolate roses, paper mâché flowers, or even one of the gold-dipped roses that are beginning to be popular for this special day. If you are cooking dinner for your loved one you can turn your home into a fantasy restaurant. Use Chalkola White Chalk Markers to turn an ordinary chalkboard or whiteboard into a fancy restaurant menu right inside your front door. Build his or her anticipation with brief descriptions of each dish. Use your colored chalk markers to make their plate speak to their heart as they enjoy dinner by writing along the edge. You can even decorate the wineglasses and the dessert dishes!
For the Family
Valentine 's Day can be extra fun without extra trouble when you have Chalkola products to help out! Children will have a blast helping you decorate for this special occasion and can even make their own surprises. If your children are old enough to work unsupervised you can get some valuable "me" time by letting them make their own cards with chalk markers and old plastic milk jugs. Just cut away the sides of the jugs and use the panels' smooth sides for artistic surface. The children can cut the plastic into shapes and decorate them or keep them as squares for conventionally shaped one-sided cards. Children will also enjoy decorating the windows in the house with chalk markers. They can draw hearts, post messages of love, or make a window into a Valentine's mural. After the day is over, all you have to do is wipe the window with a damp cloth and everything is back to normal! You can use Chalkola chalk markers to post a menu for the family or a sign that lets each family member know what they can do in the kitchen to help with dinner. Before setting the table, your child or children can help you decorate the dinner plates with chalk markers. Because chalk markers are completely safe for children, you don't have to worry about your children using them.   It's fun to assign a family member to each child and to see how they personalize the plate.
Valentine's Parties
Every child loves a good party, right? Most adults don't attend Valentine's parties because they'd rather spend the evening with someone special. Children, however, love to have parties either at school or after school with their friends. You can make it a very special occasion with chalk markers and a little imagination. You'll need something for the children decorate plastic disposable plates are perfect for this purpose. You can make a game of giving each child a plate and a chalk marker and assign them the name of a friend or classmate. That is the child they will be decorating the plate for. When they are finished they take the plate to the child's desk or place at the table. You'd be surprised at the beautiful creations children can make and the compliments they give others. The plate can be a keepsake to take home. Children can also decorate plastic glasses for each other or themselves with fun, brilliantly colored chalk markers and pens. While we're discussing hand made gifts, this would be a great time for child to make a keepsake plate for a loved one at home. When they are finished with their plate you can spray it with craft sealing spray so that it will last for years. Besides hanging streamers and decorating with balloons you can use chalk markers to decorate the glass in a classroom door as well as the windows. The chalkboard and whiteboard are great for Valentine messages surrounded by hearts. You can do this before the party or let the children help you. Chalk markers can also be used on Formica cupboards and tables. As long as a surface is non-porous, you can decorate it with Chalkola chalk markers.
You'll also need some games to play. A few that are very entertaining are:
Balloon Bounce – see how long children can keep the balloon in the air using only their heads.
Pass the Present – You'll need small gifts to wrap in multiple layers. Pass the present around a circle with each child removing one layer of wrapping. Whoever removes the final layer of wrapping keeps the present. Repeat until everyone has a gift.
Balloon Stomp – remove all the hanging balloons around the party room or classroom. Let the children stomp on them until they burst.       Each child receives a small chocolate heart when they deposit pieces of the burst balloons in a bowl separate from the candy. This is a very popular game with children of all ages!
So there you have it! Anyone of any age can have a fun and creative Valentine's Day with a loved one, their family, or in the classroom. Chalkola chalk markers are safe for anyone to use and can decorate any non-porous surface. The beauty of chalk markers is that you fill a room with color and beauty then simply wipe it off with a damp cloth whenever you want a change. Chalkola chalk markers are fun and inspirational for everyone!