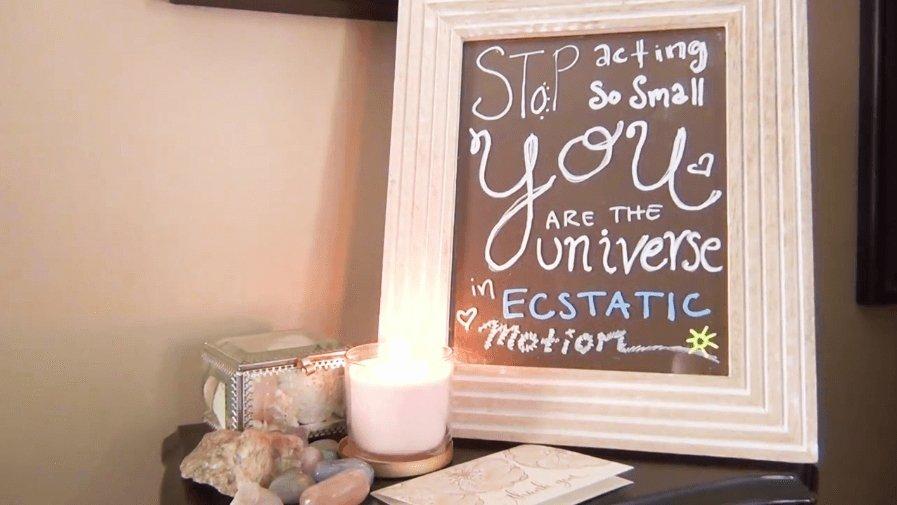 Katrina Sherwood likes to create DIY videos on any subject that inspires her but she particularly likes crafts and home décor.  One of her more recent videos depicted the creation of her "affirmation station" with the help of Chalkola chalk markers.
Supplies Required:
All you need is a:
Chalkola chalk markers
Picture frame
Dark paper for background
An affirmation station is a place to inspire you, a place of rest and beauty.  It's easy to make.
All Katrina needs to make her affirmation station is a picture frame, dark paper, and Chalkola chalk markers.
She began her project by gathering her materials and removing the back of the picture frame.
The glass of the frame should be as clean as possible.
Katrina didn't have a ruler close at hand to measure with so she laid the paper against the frame and cut it to fit.
She made sure that the paper was cut straight so there would be full coverage of the frame's glass.
Then she put the paper in the frame to double check.  At this point she could make any changes she might need in the size of the paper.
She replaces the backing on the frame.  She chose a frame that can be hung on a wall or stand by itself.
Now she has a surface that she can write and draw on as often as she likes.
Katrina believes that surrounding her home with positive energy improves her own outlook and can even have a beneficial physical effect.  Seeing a positive, optimistic message makes every day start well.
She used white for this message and had some fun with the lettering.
It's very easy to wipe off the chalk markers with a damp cloth.
After wiping off the chalk marker the glass can be used again immediately.
Changing the quotes or ideas on the frame every few days or even daily will keep the inspiration fresh.
Katrina likes to surround herself with positive, beautiful things so this changeable frame is perfect for her affirmation station.
With the dark background, any color will stand out.  Chalkola's colors are rich and vibrant even after the ink dries.
Not only are the inspirational quotes uplifting, Katrina has such fun making them.  Like most people, she is surprised at the lack of odor in the markers.  It makes using them a much more enjoyable experience.
She experiments with different lettering and it almost looks as if the last word is moving.  If she doesn't like that particular effect it's easy to wipe it away and try again.
Katrina is satisfied with her affirmation board and builds the rest of her station.  She likes to include beauty and fun with inspiration.  A candle completes her scenario.
Katrina loved working with Chalkola chalk markers.  She put a few behind her frame so that they'll be handy whenever she wants to change the message.  The brilliant colors of Chalkola chalk markers will be fun to work with on other projects, too.  
Also read – Chalkola Travels to Germany