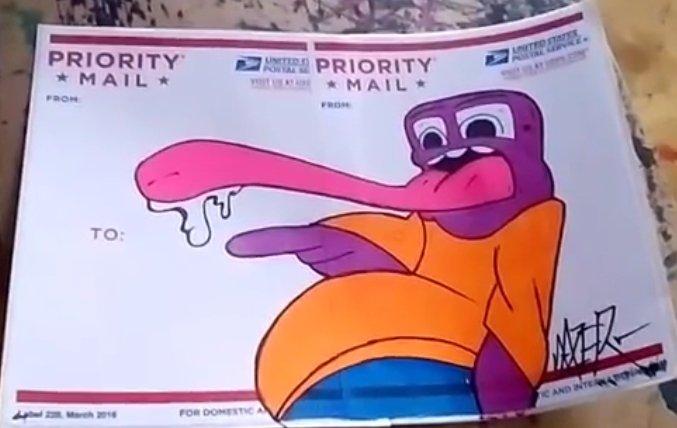 Did you know that Chalkola chalk markers are the perfect tools for all types of art?  Although it is recommended that you use them on nonporous surfaces, sometimes you don't want to wipe away these brilliant colors.  These chalk markers are ideal for coloring all sorts of artwork on paper, cardboard, canvas, burlap, and other surfaces you don't necessarily want to wipe off. Popular graffiti artist Nazer tested Chalkola chalk markers in his medium with gratifying results.
Supplies Required:
All you need is a:
Chalkola Jumbo marker pack
Chalkola regular markers
Disposable plate for nonporous surface
Step 1
Nazer put the jumbo marker pack and the 16 pack on his work surface.
Step 2
After deciding to use the 10 regular markers first he removed those colors from the package.
Step 3
First he decided to test the markers on a nonporous surface and chose a blue plastic disposable dinner plate.
Step 4
After preparing the marker by shaking it and depressing the tip until it is saturated with ink, the artist began to draw on the plate's surface.
Step 5
Nazer uses his distinctive style and the chalk marker to write his name on the surface.
Step 6
He makes more doodles on the plate including a whimsical cartoon character.
Step 7
Now he turns his attention to a drawing he has made on a mailing envelope and chooses another chalk marker.
Step 8
Nazer begins filling in his creation with an orange marker
Step 9
He colors in the shirt and begins to color the pants.  You can see how bright the colors are!
Step 10
Now he chooses a pink marker and fills in the comically long tongue on the character.  Notice how vivid the artwork has become.
Step 11
Now he chooses a purple marker to fill in the face.
Step 12
He colors the character's hand in purple, too.
Nazer has finished coloring in his drawing and is very pleased with the results.  The colors are brilliant and make the artwork very distinctive. Chalkola markers are truly a very versatile medium to work with and complement any style of art!
Also read – 
A DIY Chalkboard You'll Love to Use