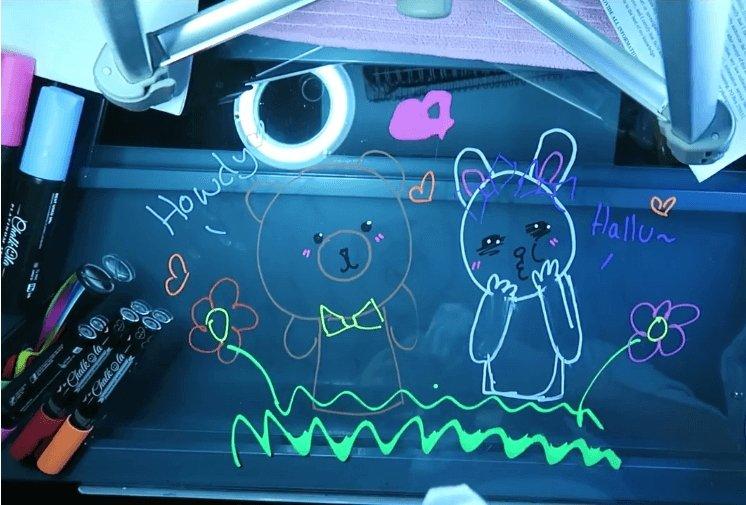 Dea Sabio, aka Lady Sithis, is an artist studying digital media at a California university.  She enjoys working in every medium but particularly likes digital illustration and hopes to carve out a niche in the gaming industry.  She was pleased to try Chalkola chalk markers and found them very inspiring.
Supplies Required:
All you need is a:
Chalkola chalk markers
Sketching paper
Glass table
Since Chalkola chalk markers do best on non porous surfaces, Dea thought it would be a great idea to draw on her glass table!
She received a complete set of Chalkola chalk markers; the Platinum series of jumbo markers with the 3 in 1 nib, ten regular chalk markers with interchangeable nibs and 6 beautiful metallic markers.
First, Dea decides to use regular sketching paper to try the Chalkola chalk markers.
She tries the Platinum jumbo markers first.  These jumbo markers take some practice for many people to learn to use.  Dea evidently did not shake them up well enough because she says the ink is watery.  They will drip and leave splotches if they are pumped too much and let too much ink down into the nib.  She does think, however, that they have a nice consistency.  She is more impressed with the regular markers and likes the way they write so smoothly.  She likes the metallic markers but can't see their brilliance because the lighting in her workspace is not adequate.
Now Dea is going to see how the markers work on the glass table she usually uses as a workspace.
Using the brown regular chalk marker, she draws the outline of a teddy bear.  She has no particular goal in mind except to doodle around and experiment with the Chalkola chalk markers.
She fills in the teddy bear's features and accents him with some pink, which shows up very nicely against the brown.
The teddy bear is going to have a companion!  Dea chooses white to draw the next figure and notices how bright the color is.
She accidentally drew the arms of the little white guy over his body but finds that she can use her finger to easily wipe away what she doesn't want.
She adds green grass and starts drawing some flower to set the tone of her drawing.
Dea has added a lot of detail to her drawing including conversation balloons.  She likes the way the markers move so smoothly across the glass.
Is cleanup really as easy as the box says?  It certainly seems to be!  A few wipes with a damp cloth and the glass is almost clean.
Cleanup was a breeze! All in all, Dea really liked Chalkola chalk markers.  She recommends them for children, teachers, artists and crafters, and anyone enjoys vivid colors that are easy to clean up.  Non-toxic, low odor, and child safe, Chalkola chalk markers are fun for everyone!
Also read – 
Chalkola Chalk Markers Meet the Inner Animal