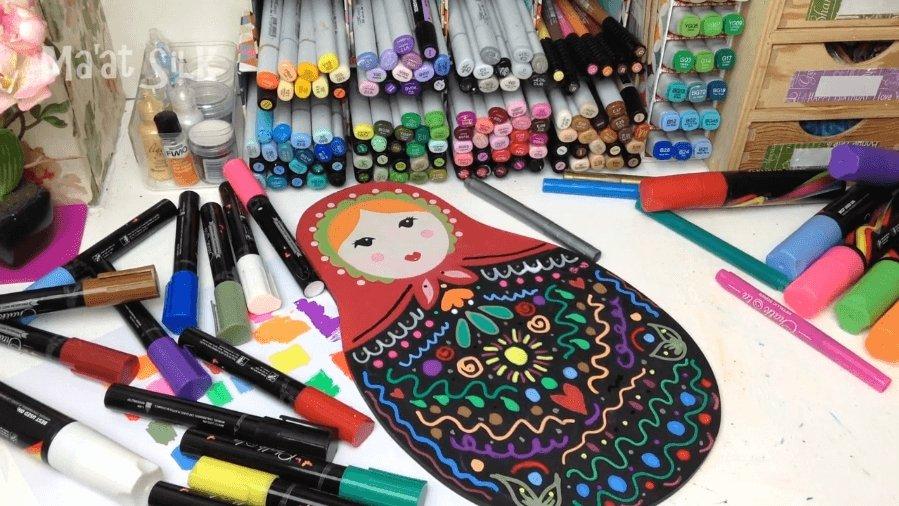 Maisie does commissioned pattern design work as well as coloring pages so she was pleased to be invited to test Chalkola Chalk Markers.  She uses her YouTube channel, Ma'at Silk, to demonstrate creative uses of color and different coloring techniques.
Supplies Required:
All you need is a:
Chalkola chalk markers
Piece of paper
Chalkoard
Maisie naturally used a chalkboard for one of her projects and she loved the vibrant colors.
Always open to new products and techniques, Maisie was happy to review Chalkola chalk markers.  She received the regular markers, the metallic set, and the Platinum series jumbo markers.
She swatches all the colors on a piece of paper, amazed at all the options she has.  Maisie says most products contain the primary colors and maybe a few extras but Chalkola includes some pastels and some beautiful darker shades.  The range of colors is remarkable and they are vibrant and beautiful.
Maisie starts her tryout with a chalkboard.  She likes the smoothness of the markers as they move across the surface, much easier than chalk.
Chalkola's colors really pop on the black background, especially the white and the pink.
In addition, she likes the way the markers consistently perform with no broken lines or blots.
The yellow is brilliant and really stands out and complements the other colors.
When she is finished, Maisie has a beautifully rendered scene.  She loves the vivid colors and how easy it is to use Chalkola chalk markers.