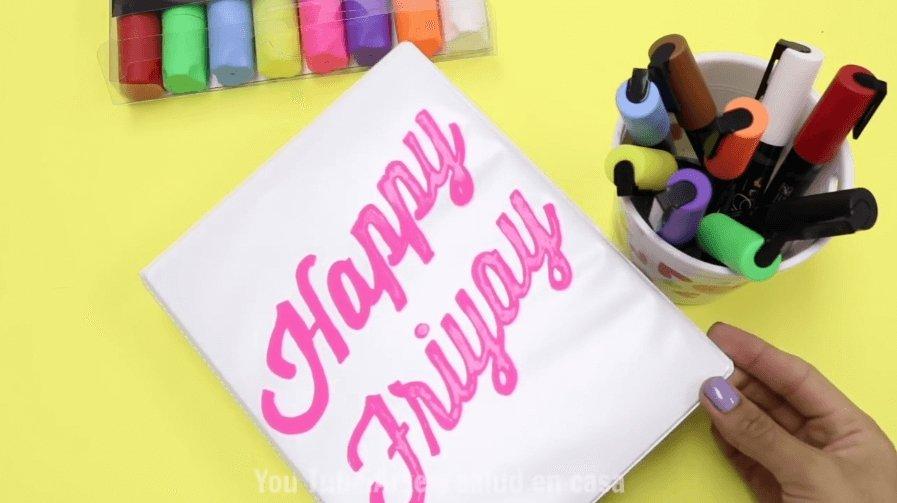 Cony likes to post new and different arts and crafts videos on her YouTube channel, Arte y Salud en Casa (Spanish for "art and health from home").  She had wanted to try Chalkola chalk markers for quite awhile and finally got the chance!  She says it was a lot of fun to demonstrate ways to decorate one's surroundings in a unique and economical manner.
Supplies Required:
All you need is a:
Chalkola chalk markers
Binder
Lettering template
One way to spice up a room is to decorate your office or school supplies.  Here is a binder that Cony made a lot more interesting with Chalkola chalk markers.
Cony admits that she isn't very good at lettering so she uses a template to guide her.  Lettering freehand isn't as easy as it looks!
She uses the regular sized pink Chalkola chalk marker for the lettering.  It will look great against the white background.
She first traces the outlines of the letters then fills them in.  A mistake can easily be corrected using a tissue before the chalk ink dries.
When she removes the template she has a beautifully lettered cover for her binder.
Cony decides to use the gold metallic pen to accent the lettering.  Unfortunately, the camera doesn't pick up its brilliance very well but it certainly adds something special to the project.
The finished project is beautiful!  If she gets tired of it, Cony can always wipe away the lettering with a damp cloth and change to another design. Chalkola chalk markers are so easy to use and remove that one never has to be bored with a design!  
Also read –
Decorating Is Easy With Chalkola Chalk Markers