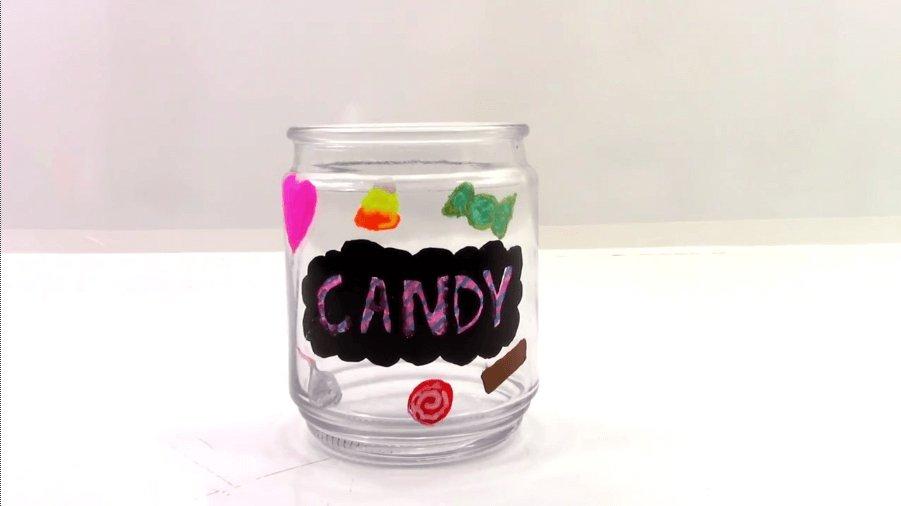 Brittany the Toy Reviewer discovered just how easy it is to decorate with Chalkola chalk markers.  She had a lot of fun doing a makeover on her candy jar!
Supplies Required:
All you need is a:
Chalkola chalk markers
Glass or jar
What was once a plain, unremarkable candy jar has become a fun and attractive focal point for any room.
Brittany repurposed a candle jar once she burned down the candle.  She cleaned it thoroughly and decided to use it as a candy jar.
Chalkola Metallic Series pens are easy to use, very eye-catching, and just right for this project.
She starts with the pink metallic pen, making a simple label to build a theme around.
Sticking with the candy theme, Brittany uses the blue metallic marker to give the letters a candy cane motif.
She surrounded the letters with black to make the label stand out as the focal point.  Then she begins to add complementary art with the red metallic pen.
You can see the different types of candy that are depicted on the jar.  Even a child too young to read could tell what this jar is intended for!
The completed project is unique, colorful, and an asset to any room. The last step is filling the "new" candy jar with some sweet treats.  The best part about decorating this candy jar is knowing that the color will stay vivid and beautiful until it is wiped off.  She may want to change the theme with the seasons or even repurpose the jar in the future.  When that time comes, Chalkola Chalk Markers can handle the job beautifully!