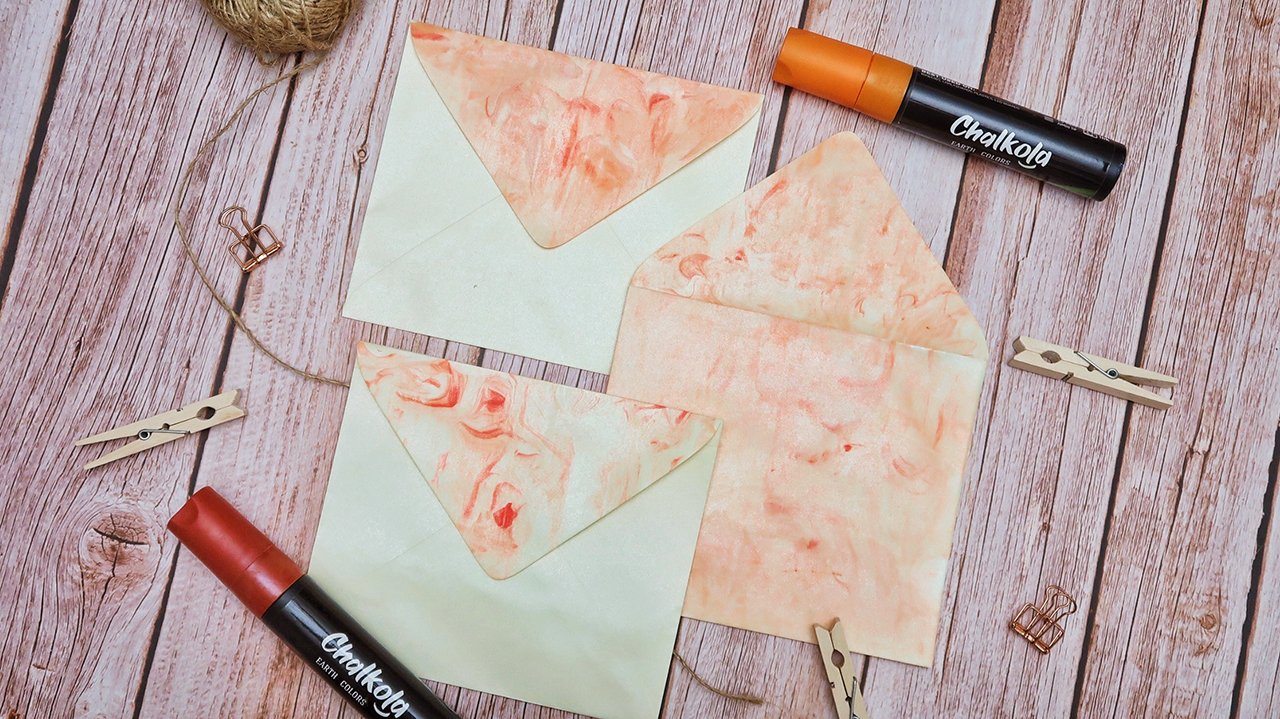 Marble is such a fascinating metamorphic stone because of its distinct veining patterns. And depending on its region of origin, you'll find it in different shades and varieties. Aside from being an extremely durable material, marble is also a popular choice for constructing houses and buildings because of its natural gloss and appealing aesthetic. So much so that you'll find the "marbled effect" on other things like phone and laptop cases, fabric, furniture, kitchenware, and more.
Enter paper marbling–a cool art technique that mimics the one-of-a-kind patterns seen on marble. Unlike real marble that's created over hundreds of years, paper marbling is something that's quick and easy to do. You can apply this technique on any kind of paper and design your own stationary mail set, complete with envelopes, too!
Excited to come up with your own unique marble patterns? Let's gather our materials and start creating.
Materials needed:

Shaving cream

Plain envelopes

Paper plate (as your palette)

Popsicle sticks

Ruler
Check out the tutorial video below on how to apply the paper marbling technique:
Steps:

Choose the chalk marker color you want for your marble effect. Press down the marker on your plate for a few times to get the ink flowing out.

Once you have enough ink on your plate, spray a dollop of shaving cream on top of it. Use your wooden sticks to fold in the ink with the cream. The color will mix nicely to a pastel shade, and the consistency will become fluffy.

With your stick, start applying the creamy ink onto the outer flap of your envelope. You may also cover the back surface if you wish.

Pick up your ruler and use it to smooth out the excess ink in an upward motion. Repeat step number 3 to create another layer of color and patterns on your envelope's flap and back surface.
There you have it–a beautiful and uniquely patterned envelope set. It's truly so easy to achieve the marble effect on paper, which incredibly takes centuries to form in stone.
We hope you enjoyed this tutorial, and we're looking forward to seeing you create more art using your favorite Chalkola products. Don't forget to tag us on Instagram @chalkola with the hashtag #ChalkolaArt for a chance to be featured. See you again next week for another colorful art-venture!