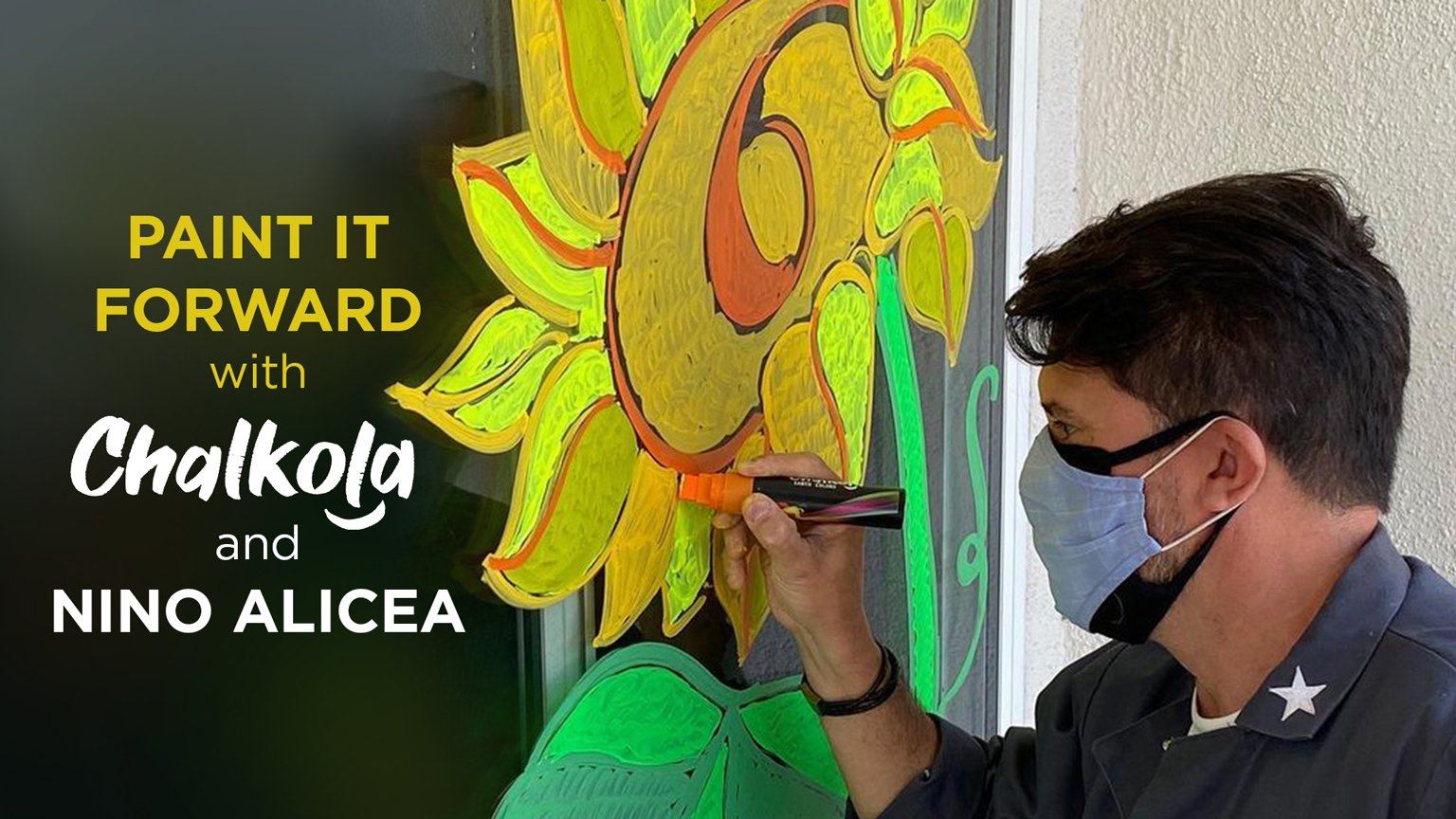 Glass Art with Purpose
If anything, the pandemic has taught us that art can help during difficult times. A remarkable example is the work of artist NiNo Alicea for the Adopt A Window Program, a project that aims to spread color, hope, and positivity to the community, starting with the health facilities in Los Angeles.
In the midst of the madness, NiNo, also known as El NiNo–a renowned production designer, art director, fabricator, graphic designer, and art mentor–tapped into his creativity and kick-started this program by painting it forward, one window at a time.
After getting vaccinated, he visited Osage Health Center and painted colorful and lively art on the windows, which added cheer to the place and put a smile on everyone's face. He posted, "Got vaccinated AND celebrated by painting it forward! Yesterday I had the honor to start the Adopt A Window Program. Aimed at bringing hope to the residents of senior facilities in Los Angeles and their staff as a reminder to them how much their efforts are appreciated and their lives are valued. We also want to demonstrate how art can connect individuals and help to express emotions especially when dealing with grief and loss."
NiNo used Chalkola Jumbo Chalk Markers to create large, vibrant flower artworks on the senior facility's windows. These liquid chalk pens are the best art tools to use on glass and other non-porous surfaces because they're easily erasable and they don't leave stains or ghosting. Just use a damp cloth or window spray cleaner whenever you're ready to erase and create again.
Watch how NiNo worked his magic and transformed the windows into masterpieces:
Through this program, NiNo found an amazing opportunity to share his artistic talents with others to lift up their spirits during a time when most feel down and are missing their loved ones. "My personal goal is to bring the residents some spring theme joy and color as many of them can't leave their rooms or even get visitors through the pandemic. Truly and honestly I care a lot," he shared.
A brighter view from inside one of the facility's rooms. Aside from window art, you can use chalk markers to create signs, announcements, displays, and more on chalkboards, glass, plastic, metal, and other smooth surfaces.
Now more than ever, when everything seems a little gray, our lives can all use color; and sharing our artistic gifts to others may just be what we need to feel hopeful for brighter days ahead.
Feel inspired by NiNo's works? Go ahead and paint it forward by creating art on your windows at home! This pack of 40 Chalk Markers features a wide range of striking colors and finishes so you can draw eye-catching designs whenever creativity strikes.
Find more of NiNo's amazing glass art through the Adopt A Window Program on his Instagram accounts @leaveittonino and @fabulousnino.