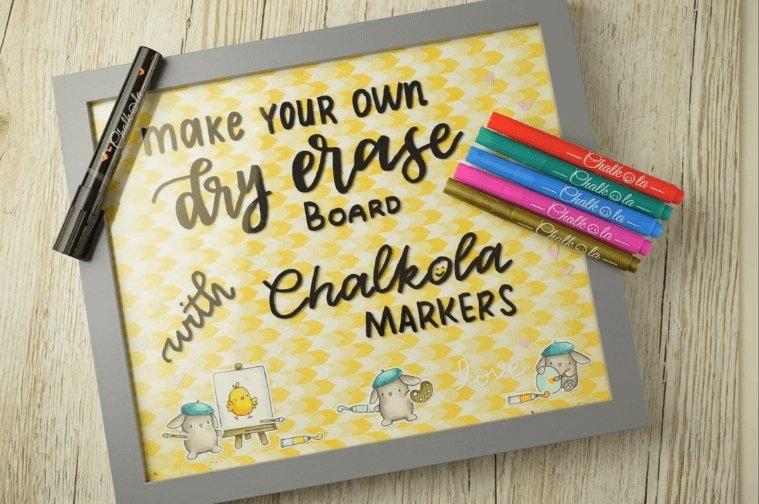 Leslie Oman likes to find beauty in the unexpected so she naturally loves crafting.  This UK-based artist, wife, and mother has even worked as a craft demonstrator and you may have seen her face on Trimcraft advertisements. She teaches crafters of all ages, offers free downloadable craft classes, and shares her passion for crafting on YouTube (Hungry Heffy Crafts), social media, and her own blog.  Naturally, she was excited to try Chalkola Chalk Markers!
All you need are:
Chalkola Chalk Markers
Picture frame
Any type of background
Cute illustration figures
Door hanger
Leslie had a lot of ideas but decided to make a dry erase board.
Chalkola Chalk Markers are safe for children, non-toxic, practically odor-free, and wash easily off clothing and hands.
You can choose any type of background but Leslie likes this particular pattern.  It's cheerful and colors will show up well on it.
She has stamped, colored, and cut out some images to decorate the background.
The cute figures and tiny pink hearts are going to make the board very cheerful.
She arranges all the illustrations to her liking.
Leslie bought a picture frame for this project and puts the background into the frame.
She makes sure the back of the frame is secure.
The black Chalkola Chalk Marker is the best choice to start with.
Leslie likes how smoothly the marker writes and how easy it is to move across the glass.
The frame makes a great reminder board. It's something she can use everyday and change whenever she completes the list.
When she finishes a task she can just wipe it off with a damp cloth.
Chalkola Chalk Markers wipe off easily, leaving no residue at all on non-porous surfaces.
It can also be used as a seasonal or holiday greeting.
Leslie recently had a birthday party for her daughter and bought some door hangers that the children can decorate. It was a fun group project and a big hit as a party activity.
Chalkola Chalk Markers work well on the wooden surface of the door hanger.  While the markers are designed for use on smooth surfaces, they're durable and constructed well enough that the wooden surface doesn't damage the nibs.
These markers are great for writing on plastic, too. Any non-porous surface is ideal for Chalkola Chalk Markers.
The metallic markers are very impressive! Leslie likes the way they shine.
She really likes her "to-do" board where she can write things down and erase them once done. So far, her daughter has come into the craft room twice and erased Leslie's list, replacing it with love notes. She cannot complain at all about that!
Chalkola Chalk Markers are not only fun to use but they spark creativity for art lovers of all ages!
Also read – The Art Guide Reviews Chalkola Chalk Markers